Leading employers and small start-ups around the globe are all experiencing the same trend in millennial employee retention; a crunch in attracting and keeping young people engaged and productive in a workspace.
Whether we like it or not, the employees of the future are shaping the landscape of the office right now, and unlike many generations before them, they tend to get what they want because they're connected and driven enough to find what they want.
Forbes tells us that the incoming millennial workforce (people born between 1980 and 2000) are projected to make up nearly half of the US workforce by 2020, and about 75% of the global workforce by 2025. This means the confines of the traditional office environment are quickly evolving, shifting, and adapting to a crop of new interconnected talent that doesn't like taking no for an answer.
Young talent in many industries – including law – want the same thing: flexibility. They want and need their workspaces to reflect a working arrangement that caters to collaboration, innovation, and fosters productivity. They also hugely appreciate and respect employers who recognize that the prototypical divide between work and personal life is shrinking.
The very concept of the office is undergoing some drastic and innovative changes – from functional flow, colours, used, collaborative spaces and even remote connectivity. Here are 5 helpful law office design strategies that have been shown to help maximize millennial employee retention.
Balance
The young generation of top talent requires more balance, and this can easily be reflected in an law office environment. For example, firms are finding that young employees favour non-conventional workspaces that allow a space to feel as though it's more accessible and open for impromptu social meetings through casual design. What's great about this design trend, is that modern employers are already listening and taking note, with about 85% of employers offering some form of flexible working environment.
It's been found that unlike most of the millennial population, young law talents are still in favour of the brick and mortar private office structure, as was offered to their predecessors, as a reward of the position. With this evidence, we can safely assume that young legal talent requires balance – not an abrupt change to all office traditions. This can be accomplished by merely downsizing, rather than ushering in a sweeping culture of remote lawyers. Legal libraries can be digitized to create smaller, more compact office spaces; other firms are experimenting with "we" spaces – as well as investigating the growing UK trend of open-concept law office spaces – a trend that has typically failed in the past to transcend to the North American industry.
Perhaps one of the most innovative and balanced ways to introduce young millennial law talents to the modern concept of the office, is to introduce a space that overlaps into both work and personal life, providing the platform for environmental exploration and more informal meeting spaces.
The Third Space
The dreaded cubicle of the mid 20th-century – an invention meant to increase productivity, which did the opposite over time. Most modern law employees prefer what's often called a Third Space – an open space for both young and old employees to gather in an informal setting. They're meant to provide a space for peaceful and relaxing interaction, collaborative meetings, and relationship building, particularly important to companies looking to boost retention; when people respect and enjoy each other's company, they end up staying. The Third Space – after work and home – offers a change of scenery for employees to liven up their routine and allows them to work independently. All of these features improve productivity, employee satisfaction, and engagement.
The concept of the Third Space is well executed within the realm of law offices in a cafe type setting. An interview with Doug Zucker, a leader of Gensler's Professional Service Firm Practice Area, notes law firm cafes emphasize informal meeting locations and a "place where emails can be caught up on laptop or tablet, and some law firms have designed their lunchroom cafe to be the largest meeting space in their facility able to hold "all hands" meetings." Every generation wears a different hat and has their own culture – millennial culture involves enjoying their workspace as part of their greater lives.
Ergonomics & Environment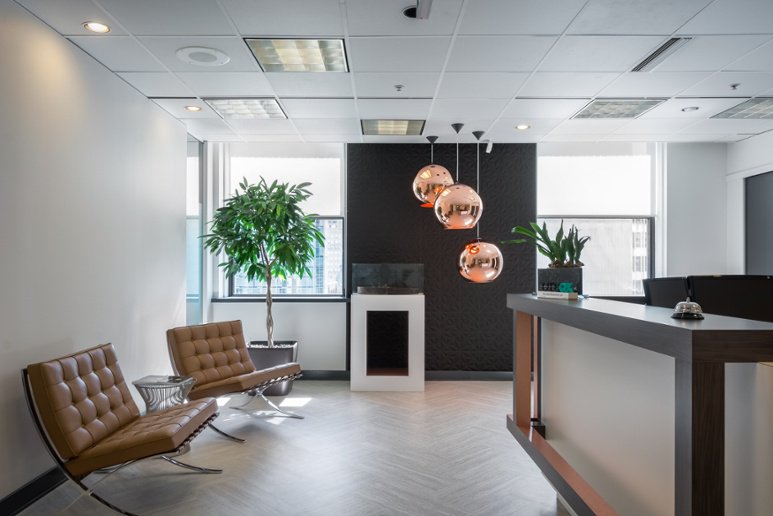 Millennial employees value and appreciate furnishings like standing desks, swivel-chairs with memory foam, and even exercise balls in place of seating altogether. Why? They value comfort and health.
Ergonomics may not be a recent invention, but its popularity and inclusion in modern workspaces is part and parcel to millennial inclusion in the office landscape. Aside from a comfortable chair, ergonomics also means flooring materials, lighting, access to natural light, air quality, and even soundproofing that allows employees to help their office feel like a space they'd like to spend their time.
A study from the Harvard Business Review shows that poor air quality – namely outdoor ozone and indoor particulate matter – has the power to affect both factory and farm workers. In offices, the study finds that employees are 5-6% more productive when air pollution levels are rated as "good" by the Environmental Protection Agency.
Consider how natural light affects the level of perceived happiness within the office; Psychology Today found that exposure to light in the workplace improves sleep, vitality, and overall quality of life, playing into daylight and circadian rhythms, biological, mental and behavioral changes that follow a 24 hour cycle and are affected by natural signals from the environment. In short, increase the amount of natural light in the office, and watch the productivity, and perceived quality of your young employees lives increase.
Sustainability
It's no surprise that young employees value the sustainability efforts of their peers, employers, and society in general. Yet another example of how young employees want to include aspects of their personal lives at work, sustainable materials, building practices, and design help to usher in feelings of respect and admiration for an organization.
Designing your workspace to reflect a low environmental and social impact is directly in line with the results of a Deloitte 2016 Millennial survey that shows young employees want businesses to focus more on people and sustainability, and less on profits. Therefore, designing a workspace environment to reflect what people want is a direct signifier that an organization or a company is listening and adapting to the will of its employees.
Explore the eco-friendly potential of harvesting rainwater for flushing toilets and washing hands. Consider the installation of solar panels to not only satisfy the desires of your young talent pool but to offset and reduce the costs associated with electricity. Source sustainable, and/or recycled/upcycled wood and building materials to give your space new character that warms the hearts of your employees and demonstrates the organization's commitment to them.
Colour
Interior designers know all too well the potent effects of basic colour theory on the human psyche. Use of colour theory can be used to both overhaul the visual aesthetic of your new office design strategy, but can also be used to help usher in a crew of motivated and cheery employees.
For example, a recent University of Texas study found that gray, beige, and white offices (the standard in most cases) inspires and induces emotions of sadness and depression – specifically in women. Men, on the other hand, feel similarly in settings that overpower with orange and purple. Meanwhile, low-wavelength colours like green and blue have been shown to improve efficiency and focus, not to mention help inspire a good overall feeling of well-being.
Likewise, yellow is known as the shade of optimism – prompting energy and freshness from employees. It's believed to trigger innovative ideas, therefore making yellow a key colour for a Third Space, or collaborative arena within your workspace design. Red is a high-wavelength colour and is said to increase blood flow and heart rate, helping fast-paced offices meet deadlines and maintain a level of urgency.
Views of Nature
Now, speaking of green – employees who work in office spaces that feature a view of greenery or nature report 13% higher levels of well-being and are 8% more productive, according to a study from the Human Spaces Report. The NCBI reports significant correlation between nature contact and stress and general health complaints in modern office spaces. As workday nature contact increased, perceived stress and general health and well-being complaints decreased over time. The report suggests that exposure to nature in an office design strategy is a healthy workplace exposure, and offers a "simple population-based approach to enhance workplace health promotion efforts."
In this regard, consider installing more windows and more accessible, open-concept views of nature from the office. Not only will you be providing your employees with greenery, but you'll effectively increase the amount of natural light that infiltrates the office design as well.
—
The equation is a simple one: young employees demand more from their employers and expect to be adapted to in their office design strategies. By embracing the ideals of sustainability, flexibility, ergonomics, and common space to balance the work/life balance, employee retention efforts are sure to fall into place.