Every Office has an Aura
Take a look around the room you are in right now… how does it impact you? Are you focused, relaxed, or completely comfortable? Are you sitting in a bright and airy space, warm and quiet office, or casual, hip setting? Studies have shown that a person's surroundings profoundly impacts their mood. For example, bland gray and beige offices induce feelings of sadness – particularly for women. Orange and purple impact men similarly. Conversely, a mellow yellow color promotes optimism and triggers creativity and innovation. At Aura Office Environments, we believe that the office environment surroundings profoundly impact office productivity. This is because every office has an Aura – A Distinct Atmosphere of Energy.
The goal of Aura Office Environments is to create stunning office spaces that spark productivity, foster collaboration, and encourage innovation. Just as there is no one on this planet who is exactly like you, we believe there aren't any two companies who have exactly the same office. In fact, we've completed over 1,000 projects and have never repeated a design. That's why we want to get to know you and understand your business in order to help you realize the office Aura you're trying to create.
What is a Distinctive Atmosphere of Energy?
While an office Aura is invisible, it has a profound psychological impact. Essentially, it is how the business surroundings influence office behavior. You can think of office energy in five different ways.
---
Mental Energy. The mind has a requirement for quiet atmosphere in order to conceive creative thoughts and renew itself.
Spiritual Energy. Every company has a vision and mission to accomplish. The office environment serves as a daily focal point to renew each employee's commitment to achieving these goals.
Emotional Energy. How the environment cultivates positive emotions and happiness.
Collaborative Energy. The human requirement to share ideas, brainstorm with colleagues, and collectively make decisions.
Functional Energy. How the environment promotes the successful completion of everyday tasks.
---
Creating the Perfect Office Aura Requires Control of the Design + Build Process
Aura Office Environments is a Design, Build, and Furnish company. This is a very important distinction between companies who only design an office and require someone else to build it and then leave the customer to figure out what furnishings make sense. Worse yet, are construction companies who farm out the design to anonymous subcontractors whom you'll never meet. This is because there are almost always design adjustments needed to be made during construction.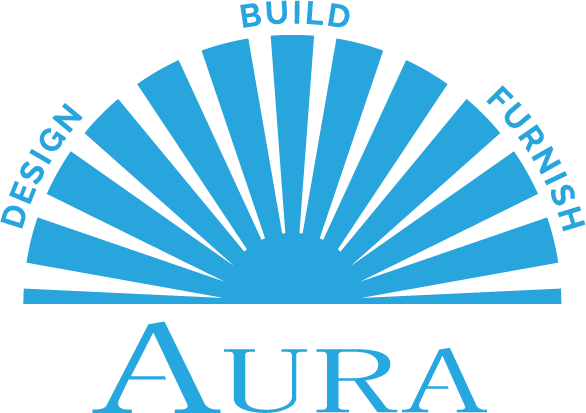 The benefit of working with a Design, Build and Furnish company is shown in the figure below. Let's say you've hired an architect to design your new office who has general contractors bid on their design. Unfortunately, the bids are more than the allocated budget so the design has to be modified. However, you liked the original design and want to retain the design elements. This causes the architect to redesign again and have the contractors rebid again which results in schedule delays, increased likelihood of mistakes, and likely costs overruns. This iterative process continues into the construction phases while unforeseen changes are needed to be made.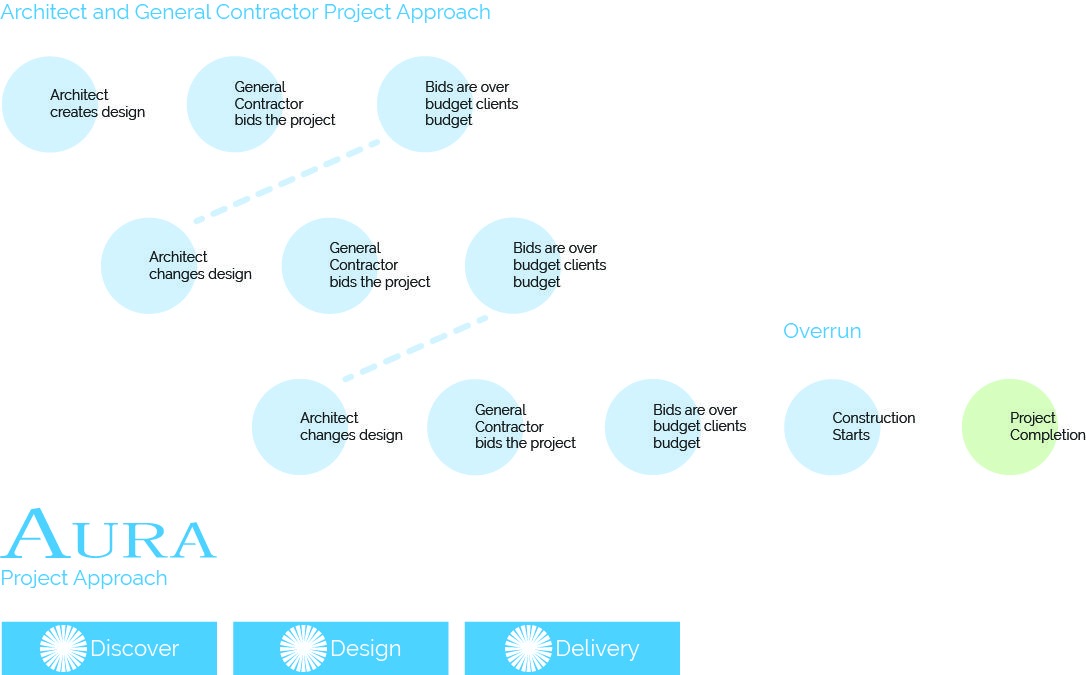 At Aura Office Environments, our design and construction teams are deeply intertwined and constantly engaged at every step of your project beginning with the initial discovery. The process from discovery to design to build is smooth and occurs without unwanted delays and cost overruns. We are consumed with minimizing risk during the construction process. That is why it has to be tightly integrated into design process.
We think differently. We require you to spend time with our designers and meet our builders during your selection process. It's an absolute necessity because every office Aura is unique.
The Major Office Aura Classifications
Our clients are typically seeking to create an atmosphere based on three distinct Aura classifications.
Millennial Office Auras.
Millennials perceive the workplace as a community, not solely a place they earn a living. Therefore, the environment is more relaxed, open, friendly, and generally promotes an atmosphere of collaboration and relationships. They want a happier, vibrant, and more exciting office Aura.
Modern Office Auras.
Sleek, clean, and upscale. The modern office Aura is an extension of the company's brand. The Aura it creates reinforces the principles and vision of the company. It's attractive to potential clients and sends a message to employees that they are appreciated.
Traditional Office Auras.
Productivity, efficiency, and flexibility. The traditional office Aura serves as the hub for permanent, temporary, and hot-desking gig economy workers. The Aura maximizes space and allows the business to grow without needing to take lots of additional room.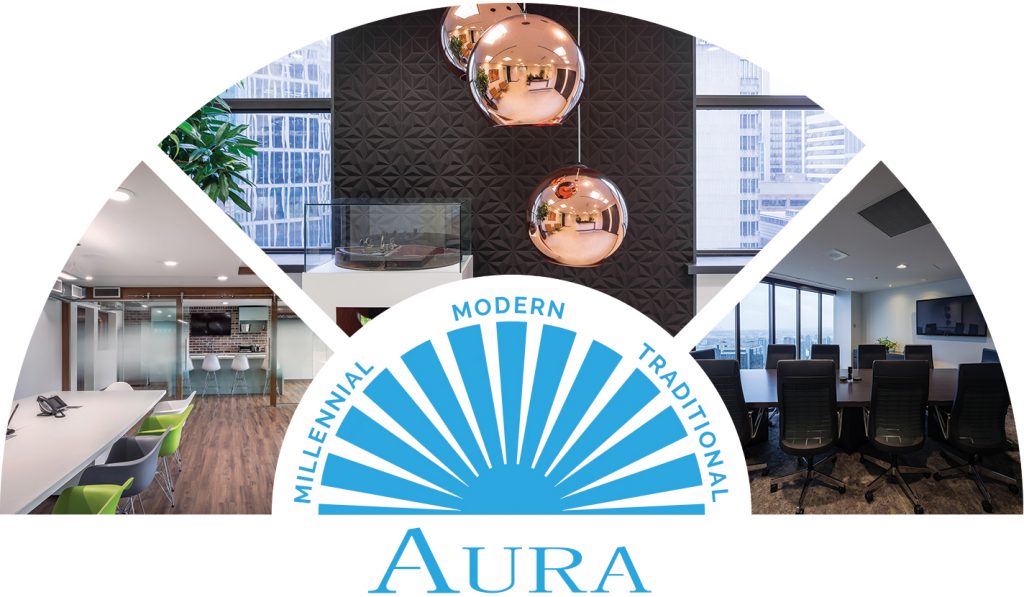 Our Discovery-centric Design Difference
The design process is where we truly set ourselves apart. We employ our Discovery-centric Design Process which is very unique. We think aesthetically, emotionally, and functionally about office design. We break down the intuitively complex process of office design into an enjoyable discovery experience. Check out Aura's Periodic Table of Office Design below. This is one of the tools we use to more easily communicate with prospective clients and identify the design elements of their office Aura.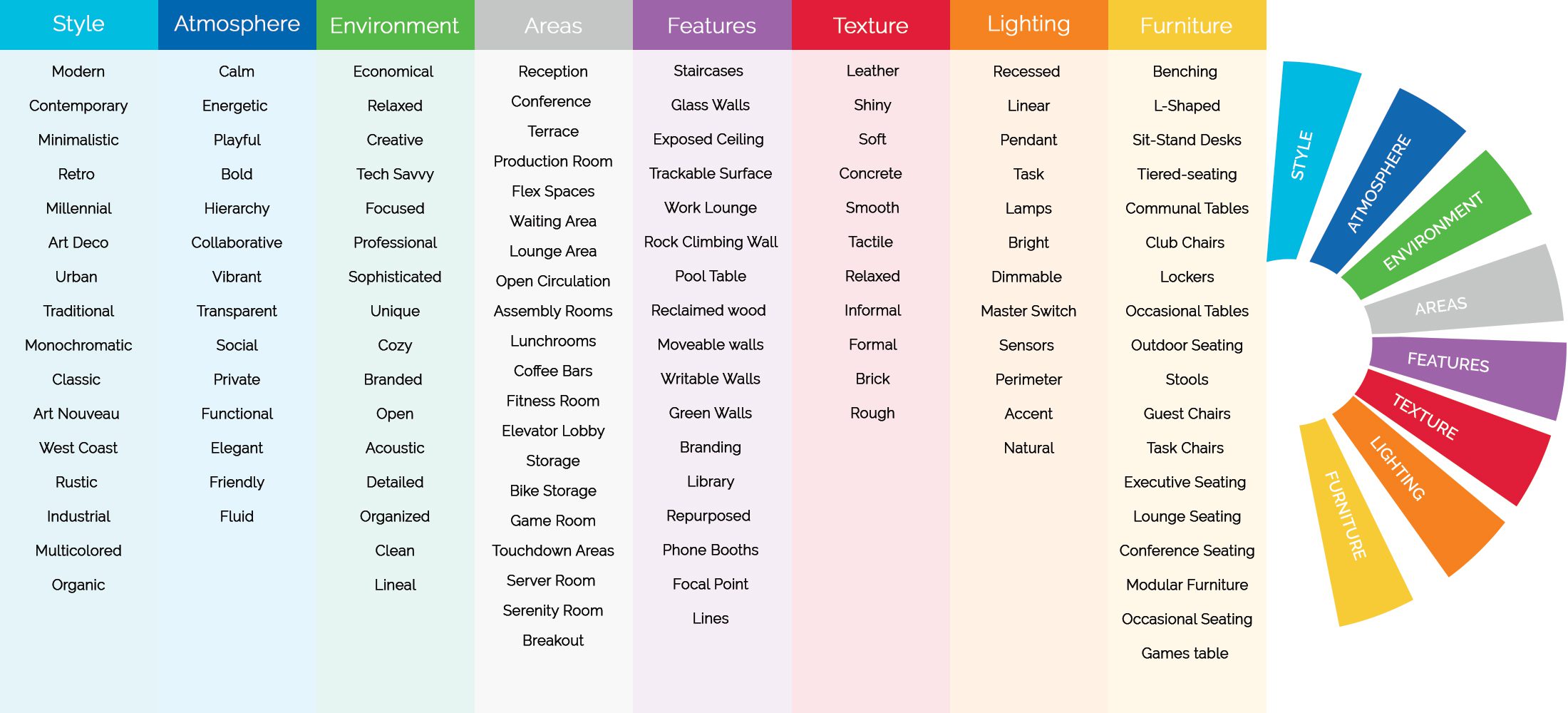 We Know You're Worried (and Maybe Scared)
If you are planning to remodel or relocate your office you might not be sleeping well lately. Of course you're worried about the cost, schedule delays, and everything that can possibly go wrong. However, what we've learned after 1,000+ installations over the past three decades is that the single-most important worry is the reaction of your employees and customers experience to your new office atmosphere.
Please take a look at the project images on our web site. They're not just pretty pictures of offices. Each office was created with a purpose and goal to fulfill that Aura of energy.