Uncover Workplace
Insights Unique
to Your Team
The Pivvot platform provides clarity during the workplace planning process. We help you measure your workplace needs before you build. Whether you're about to undergo space planning or make a real estate decision for your organization, Pivvot helps you calculate your current and future needs based on your team's unique working styles. Pivvot transforms how leaders re-imagine spaces by prioritizing people.
People Powered. Data Driven.


Occupancy Monitoring & Space Usage
 

Resource
Key

C

onsiderations

B

efore

S

igning

a

C

ommercial

L

ease
Empower yourself with insights and practical tips tailored for decision-makers, ensuring a confident and informed approach to securing the best possible terms in your next commercial lease agreement.
Download The Guide
How Pivvot can help your business?
We facilitate leadership alignment that allows for ongoing scenario planning
and evolved organizational thinking.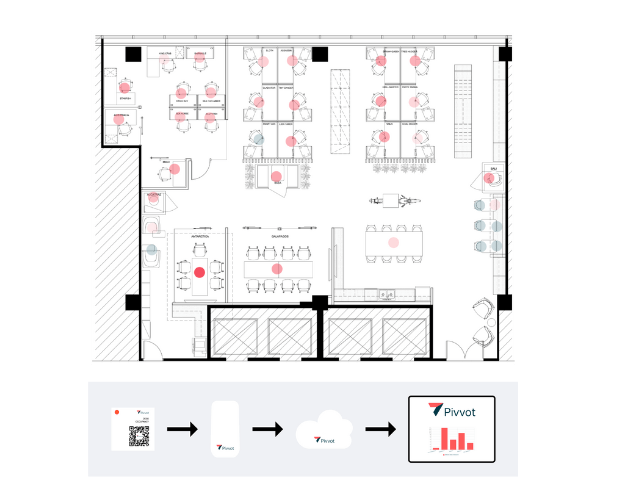 How is Your Team Currently Operating?
Occupancy Monitoring
Pivvot offers workspace occupancy sensors that provide more granular information regarding the organization's occupancy. Pivvot's wireless desk occupancy sensors make it possible to evaluate space more effectively.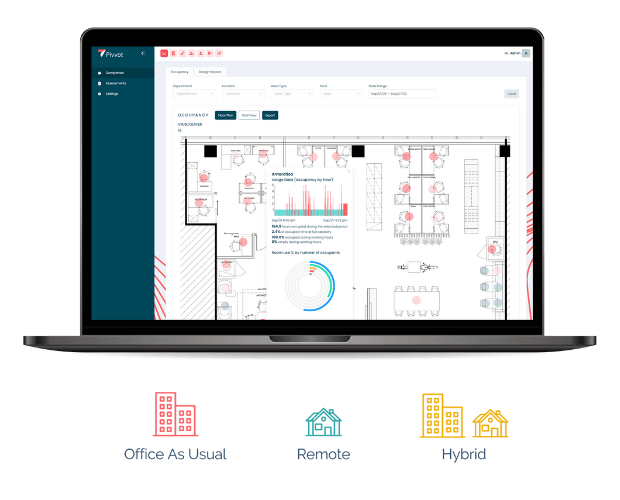 How Will Your Team Operate in the Future?
Workstyle Personas
Pivvot helps organizations clarify workstyle personas and provides data on how the workspace can better support your teams. This step helps organizations figure out how their team will work in the future and how the policies they set for in-office attendance will drive space requirements.
What Will Move the Needle for Your Organization?
Impact Analysis
Pivvot is more than just a transformative scenario planning technology. Combined with expert consultation, it eliminates assumptions with unbiased, data-driven and people-powered calculations.
Book A Demo
We used Pivvot and found that the objective summary of our team's individual feedback was very helpful to our understanding of how we work best and what office space is needed to support us moving forward.
We found the Pivvot process to be very helpful in future planning for the firm.
We found Pivvot to be a great timesaver, fantastic data and very well thought out.
Pivvot has a process that is a method to the madness.
Pivvot brough clarity to how our team workstyle personas would look in a post Covid world in relation to the office space needed.
We were able to confidently make a decision to move to a hybrid work model in our new head office, which I'm not sure how we would have done that without using Pivvot.
Frequently Asked Questions
Here are some of the most commonly-asked questions about our services. Feel free to have a look through!
What unique insights does Pivvot bring to workplace planning?
Pivvot delivers unparalleled insights into workplace planning by meticulously measuring your team's specific workplace needs before initiating any renovation or redesign. It leverages data to facilitate informed decisions, ensuring your office space is precisely tailored to your team's operational patterns and preferences.
How does Pivvot ensure accuracy in occupancy monitoring?
Pivvot employs advanced wireless desk occupancy sensors that autonomously and anonymously detect if a desk or meeting room is occupied, using a blend of temperature measurements and machine learning. This ensures precise, rapid data capture, providing a detailed insight into work habits and space utilization without compromising individual privacy.
Can Pivvot assist in future-proofing workspace planning?
Absolutely! Pivvot assists in sculpting Workstyle Personas through leadership alignment and company-wide assessments. These personas inform dashboards that shape work style policies and space allocation, ensuring your workspace is not only appropriate for your current team but is also adaptable to future changes and needs.
How does Pivvot's Impact Analysis support change management?
Pivvot's Impact Analysis involves a set of 25 statements that help staff rank your current workspace, providing insights into necessary adjustments to entice employees back and facilitate change management. It serves as an ongoing assessment tool, applicable throughout the year or during any office renovation or relocation project.
What are the core offerings of Pivvot?
Pivvot offers a comprehensive suite including Staff Assessments, Live Dashboards, Actionable Insights, Scenario Planning, Expert Advice, and Occupancy Monitoring & Space Utilization, all designed to optimize your workplace strategy and ensure it is finely tuned to your team's needs and workstyles.
How does Pivvot leverage data in workplace strategy?
Pivvot harnesses data from various sources, including occupancy sensors and staff assessments, to craft Live Dashboards and generate Actionable Insights. This data-driven approach ensures that every aspect of your workplace strategy, from space allocation to workstyle policies, is informed by accurate, real-time data. Read this insight to learn how Pivvot's data can support workplace strategy and design.
Can Pivvot assist in crafting in-office attendance policies?
Yes, Pivvot aids in shaping in-office attendance policies by clarifying workstyle personas through leadership alignment and company-wide assessments. This ensures that attendance policies are not only aligned with organizational goals but also support the varied workstyles and needs of your team.
How does Pivvot support ongoing workplace assessments?
Pivvot provides an ongoing assessment tool that can be utilized anytime throughout the year, ensuring that your workplace strategy remains aligned with your team's evolving needs and preferences, whether during regular operations, an office renovation, or a relocation project.
How does Pivvot facilitate informed real estate decisions?
Pivvot provides data-driven insights through dashboards informed by workstyle personas and occupancy monitoring, ensuring that your real estate decisions are precisely aligned with your team's actual needs, usage patterns, and future growth projections. Read this Case Study highlighting how Pivvot helped Westland Insurance reduce their square footage needs and increase savings.
Can Pivvot's insights be applied to various office types and sizes?
Absolutely, Pivvot's insights are scalable and applicable to various office types and sizes, ensuring that whether you're planning an office space for 50 employees or a 3-storey building office, your workplace strategy is finely tuned to your specific needs.
How does Pivvot ensure the privacy of individuals during occupancy monitoring?
Pivvot's occupancy sensors are designed to autonomously and anonymously detect occupancy, ensuring that individual privacy is maintained while still providing valuable insights into space utilization and work habits.
Can Pivvot's insights inform workspace design and layout?
Yes, Pivvot's insights can significantly inform workspace design and layout, ensuring that every aspect from workstation allocation to collaborative spaces is aligned with actual usage patterns and employee needs, fostering an efficient and supportive environment.
How does Pivvot support scenario planning in workplace strategy?
Pivvot facilitates scenario planning by providing live dashboards and actionable insights derived from real-time data, ensuring that your workplace strategy can adapt and pivot according to various scenarios and future projections.
In what ways does Pivvot provide expert advice in workplace planning?
Pivvot provides expert advice by translating the data from your specific workplace into actionable insights and practical guidance, ensuring that your workplace strategy is not only data-driven but also guided by seasoned expertise in workplace planning and optimization.