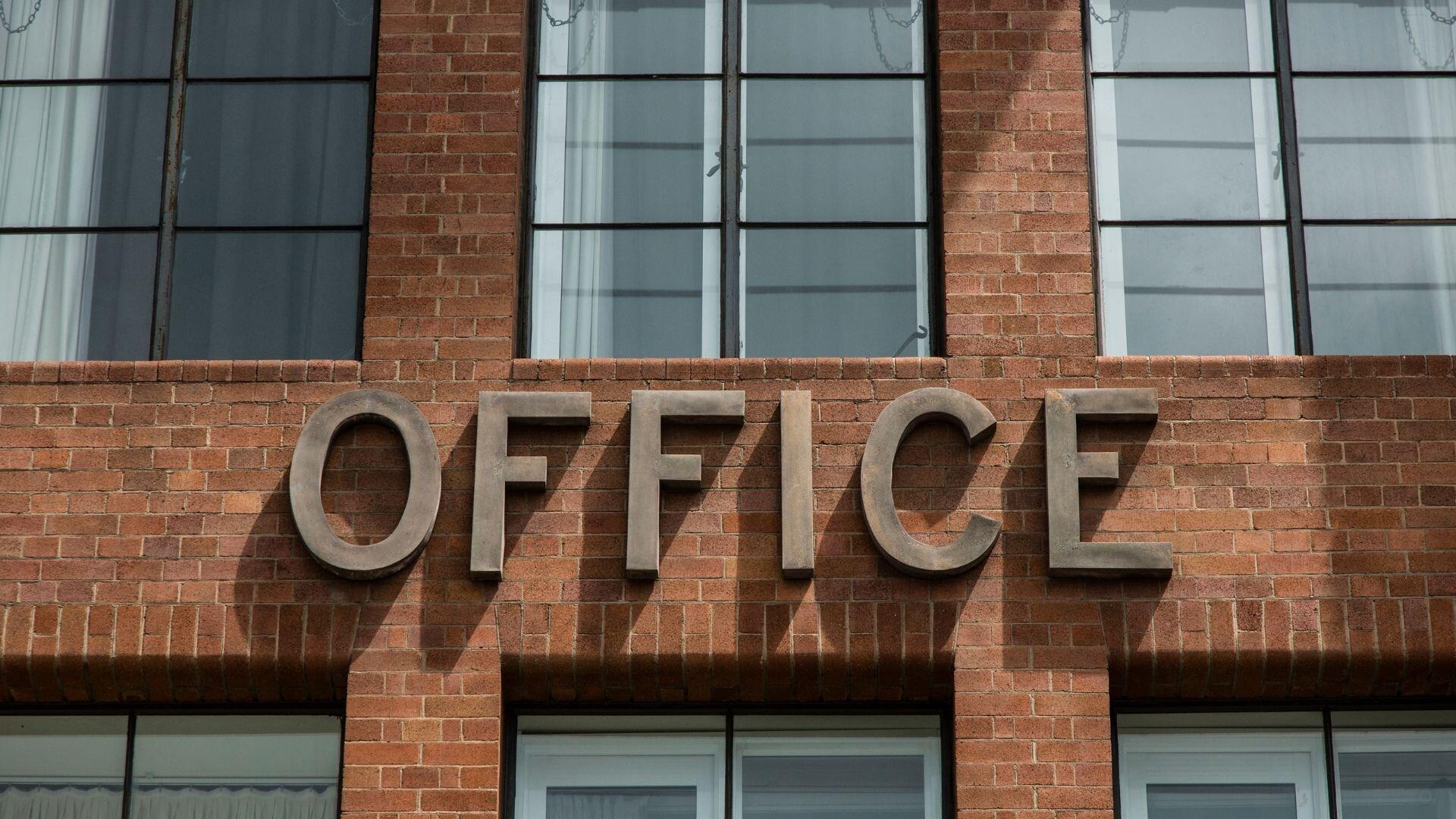 3 post-pandemic workplace transformations shaping the next chapter of the law firm
The COVID-19 pandemic sped up much-needed change in the workplace that may have never happened otherwise. Organizations around the world transitioned to hybrid working models and some even made the switch to completely distributed teams. Business leaders began to evaluate just how much office space they would need moving forward, what types of spaces, and question whether spaces should be repurposed to better suit new working norms.
These changes are hardly short term. As we look to the workplaces of the future, we can expect that this pandemic will have a long-standing impact. In CBRE's Law Firm Practice Group (LFPG)'s recent research surveying 149 law firms, 58% of respondents predicted that COVID-19 will still have a significant impact on the workplace even three years from now.
So what will the future law firm look like as it explores new possibilities?
With long-standing traditions, the legal industry is facing its own set of unique challenges as it welcomes a new chapter. Because of the nature of work carried out by legal firms, being present in the office has always been the industry's status quo. Firms thrive on in-person interactions between lawyers and clients, and associates require hands-on training to develop the experience they need to thrive in their careers.
To find out what this next chapter might look like as firms navigate these challenges, Aura interviewed executives at legal companies across Vancouver. We also gathered first-hand insight on these matters by hosting a Tenant Talks discussion, Navigating Disruption in the Legal Space, last July.
We uncovered three major post-pandemic transformations that will impact the future of the law firm for many years to come.
Utilization of office space is decreasing
Our research revealed that before the pandemic, lawyers and staff at legal firms were working in-office 50-70% of the time. Working remotely was more of an exception to the rule.
At the moment, we're seeing between a 10-20% utilization of space with staff still working remotely a good chunk of the time to practice social distancing.
Looking to the future, as vaccines make the return to the office much safer, we expect to see office utilization increase again to about 30%. Though it might steadily increase over time, we know that utilization won't go back to the level that it was before. This reduction in utilization is attributed to staff wanting to hold on to the flexibility of where they work. When we asked firms what staff were looking for most in the return to work, 60% stated the flexibility to continue working from home.
Partners too are experiencing the benefits of offering remote working arrangements. Providing more choice in when and where staff can work drives engagement, which in turn drives productivity and profitability. It's a win-win for all.
At the same time, a lower utilization of the office space comes with the opportunity for law firms to reduce their footprint by
Downsizing on total square footage
Hotelling (turning areas into bookable spaces for clients to use)
Altering floor plans for experience-based working
Minimizing environmental impact by not requiring regular commutes
One suggestion that came to light in our discussions is for law firms to re-allocate their spaces within the office, turning certain areas into bookable spaces for clients on certain days of the week when regular staff are expected to be working remotely. Clients can use hot desking apps to reserve available workstations and work comfortably from the firm's office.
Office layouts are evolving to better support more levels of staff
We asked legal executives to describe the nature of their days in-office and tell us what tasks they typically come into the office to complete. Meeting with colleagues and staff, socialising, and enjoying impromptu face-to-face interactions were the most mentioned reasons why staff require presence in the physical office space. Other activities mentioned included:
Performing administrative tasks
Giving performance reviews
Being present as leaders
Taking care of paperwork
Accessing tools and software.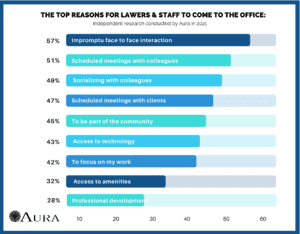 Due to the important need to establish emotional and professional connections, it's expected that even three years from, now, lawyers will still be meeting with clients in person rather than digitally over platforms like Zoom.
When it comes to the allocation of spaces, given the nature of work and the continued need for privacy, legal firms do not expect to shift over to open floor plans. Having private offices and private meeting rooms will still very much be the norm.
What is changing in terms of office design though is who gets access to prime workstations. Our conversations told us that for the most part, lawyers and legal assistants are performing well remotely. Because it's working out, they have more flexibility choosing between working from the office or working from home. On the other hand, administrative and accounting staff don't have as much choice. They still need to commute to the office to access the tools and software they need to perform their duties effectively.
An interesting observation came up about the need to entice legal assistants to work out of the office more regularly. Although they can work from home productively, their administrative work can sometimes suffer out of office. As firms move forward, they will need to offer legal assistants the best spots in the office to encourage their attendance.
Because there is a large demographic of staff that need to be in the office regularly, law firms are shifting towards making their offices much more comfortable environments for everyone to enjoy.
When we asked executives what changes they'd like to see to their physical space, they expressed interest in:
Increasing square footage per person in the space to make staff feel more comfortable and distanced from one another.
Using glass separators rather than traditional cubicle wall separators to establish boundaries while keeping an open, non-claustrophobic feel.
Rearranging floor plans to move private offices for lawyers into the core, and instead position workstations to the exterior and on the window line to give more staff access to natural light
Rearranging existing floor plans in a way that enlarges break room areas and collaboration areas.
Experience-Based Working (EBW) is becoming the preferred workstyle
Our research tells us that as staff return to the office post-pandemic, we will see a long term shift in working styles.
As staff worked from home to practice social distancing, they had opportunities to save on commuting times or better manage household chores like doing the laundry during the workday.
When offices are safe to return to, we can expect that staff will choose to become hybrid workers in order to hold on to this flexibility of choice. This means that their work will be based wherever it feels most productive to them. Staff can work from home 2-3 days a week, and will happily share "free address" (or non-assigned) space within the office on the days that they're in.
By adopting this Experience-Based Working (EBW) model, firms can continue to offer staff greater choice in how and where staff work.
To accommodate these preferences, law firms will need to develop the spaces needed to support different working needs and experiences in the form of bookable focus spaces, collaborative spaces, and meeting rooms.
Develop your workplace strategy
If you're a law firm in the process of planning out your office of the future, there are many decisions to make in a time that's still uncertain. The first step towards planning out your office involves getting a deep understanding of what works best for your team now and in the future. for the future involves understanding what works best for your team. Start by assessing and measuring your staff's current work preferences and finding out what workstyles are leaving towards in the future.
For assistance in developing your workplace strategy, schedule a free consultation with Aura. We help you:
Explore multiple working scenarios
Calculate your potential savings
Determine how to best utilize your space
Visualize potential design layouts and space allocations for your office
Interested in joining in on discussions shaping the future of the legal industry? Attend our next Tenant Talks event, "Pivoting the Legal Workplace in Canada" this April.