Smart businesses recognize that people are at the heart of their success – when companies put employees first, staff are more engaged, motivated, and better equipped to do a great job. FirstService Residential (FSR) recognizes the importance of a great employee experience, which is why they are certified as a Great Place to Work. We spoke with their President, Chris Churchill, to learn about their strategies and initiatives to maximize the in-office employee experience. Keep reading to learn what makes FirstService Residential stand out and how its strong culture impacts the employee experience.
What Makes a Great Place to Work?
Chris Churchill attributes FSR's success to three core areas. These areas include a growth mindset, an aligned vision, and a focus on building connections. A growth mindset allows individuals to have continual development opportunities. Churchill states that "the industry has so much room for improvement, and one of [FSR] core values is to 'Aim High', so we are locked into finding new ways of working and trying different strategies for our team to be more efficient." When companies put resources into growth and educating their team, it helps propel the company forward as it continually improves. 
An aligned vision allows employees to feel as though there is a purpose to all their work. Churchill explains that FSR is always transparent to the team about what they are focused on. Leadership is adamant about discussing the company's goals, mission, and vision for the future. Furthermore, there is also a focus on sharing this with all individual team members so they know how they fit into the company's overall goals. When employees are aware of the company's vision, mission, and plans, it instills a sense of belonging and identity for each individual. 
At FSR, there is an emphasis on building connections, regardless of how individuals conduct their work. Several initiatives have been implemented to help facilitate connection-building and promote an environment of belonging. From First Call to First Connections, FSR is always looking for ways to bring the team together and foster an environment of belonging among staff.  
What makes a great leader?
Chris Churchill joined the team four years ago and was determined to make FSR a great workplace. With a strong vision behind him, he does everything he can to improve the employee experience by making people feel appreciated and supported. His approach to leadership is "all about people." During the interview, he states that he understands that "it is a tough industry, and people are dealing with challenging situations, and the last thing they need to have is a challenging boss or work environment." Furthermore, Churchill's strategy is based on the slogan, "If I take care of my team, my team will take care of the client." He backs this up through actions, not words.
From day one at FSR, Churchill has been active around the office and commits to office walkthroughs 2-3 times daily. His walkthroughs consist of visiting the 100-150 daily in-office workers and asking them how their day is going, how they feel, and if they need anything. He states that this is a meaningful way to connect with staff and show them through actions that are appreciated and supported. 
I remember telling people we would be a top place to work one day. And now we are, and I think everyone is proud to work at FirstService Residential.

 
Building a strong company culture to improve the employee experience
A healthy company culture emerges from a working environment where everyone feels empowered to express themselves without fear of repercussions or criticism. Employees feel empowered to contribute meaningfully to their team and the business in such an environment. Some initiatives FSR has implemented to foster a healthy company culture include:  
First Call
First Call is a biweekly video call that lasts approximately 15 minutes and allows staff members to foster meaningful connections with colleagues across the organization. During these interactive sessions, participants engage in open conversations covering various topics, from global events and company updates to cultural celebrations and mental health awareness. This initiative encourages employees to open up and share valuable information, resources, tips, and tricks, promoting a collaborative and safe space for all. With an impressive attendance of well over 100 participants at each session, First Call exemplifies the power of collective empowerment, giving every employee a voice to express themselves freely. 
Churchill attributes First Call as a keystone to the company's culture, helping cultivate an environment where everyone feels empowered and valued. 
First Connections
First Connections is a monthly internal networking opportunity where staff mingle and interact with new hires. From coffee to wine and cheese, this opportunity allows team members to get to know their colleagues in an informal environment. By providing this opportunity, First Connections aims to alleviate the stress and pressure new hires may feel when getting to know everyone on the team. Furthermore, this initiative plays a vital role in acclimating new employees into the organization, strengthening their connections with their team and the broader company. When staff have a streamlined onboarding process and the chance to connect with peers, it can contribute to a positive company culture. 
Diversity and Equity Content
At FSR, there is a significant focus on belonging. The organization is committed to facilitating open discussions and dialogue about important issues. From mental health month initiatives and equity training to pride month and Women's history month, they actively share information, history, and knowledge to bring people together. 
Be The Difference
FSR is committed to fostering a positive and inclusive workplace culture. The organization offers a corporate program called "Be the Difference." It is a culture-shaping program where employees gain access to a diverse set of tools such as empathy, perspective, assuming positive intent, managing emotions, and understanding the diverse backgrounds of others. The "Be the Difference" initiative is offered across the entire company, and as individuals go through the program, they learn how to use these tools in their everyday life. By encouraging a culture of empathy, understanding, and respect, FSR nurtures a thriving community where everyone can thrive and reach their full potential. 
How does the built environment impact culture and the employee experience?
When workplace design aligns with company culture, it becomes inspiring, motivating and improves the employee experience. To reflect its evolution, FSR recently underwent an office redesign, creating a workspace built around how people work. With the help of Aura, FSR was able to transform its workspace and elevate it to better support the employee experience. Churchill describes the new office style as a "choose your own adventure," allowing individuals to select the most suitable work environment for their daily needs.
With a dynamic setup and flexibility, employees can explore diverse work settings. When employees have an in-person meeting, dedicated meeting rooms are readily available. The lunchroom features informal seating arrangements for individuals who need to catch up on emails. Furthermore, a designed video room offers a seamless virtual experience for staff requiring video conferencing capabilities. The newly redesigned office enhances productivity, fosters flexibility, and allows for diverse work styles, creating an environment where employees can thrive. 
The new office is forward-thinking, stepping away from the historic workplace rhetoric where employees are wired to one desk for eight hours a day. The focus now for Churchill and the team at FSR is to make staff comfortable and efficient. 
I want people in the office, but I also understand that not everyone needs to be there every moment of their life. Therefore, when people come into the office, the experience must be meaningful, comfortable, and technology-enabled.

– Chris Churchill

 
TenantTalks Summit: Maximizing the In-office Employee Experience
Curious to learn more about how FirstService Residential is maximizing the in-office employee experience?  
Join us this October for a TenantTalks Summit to explore direct initiatives and actionable strategies industry-leading companies are implementing to enhance the workplace.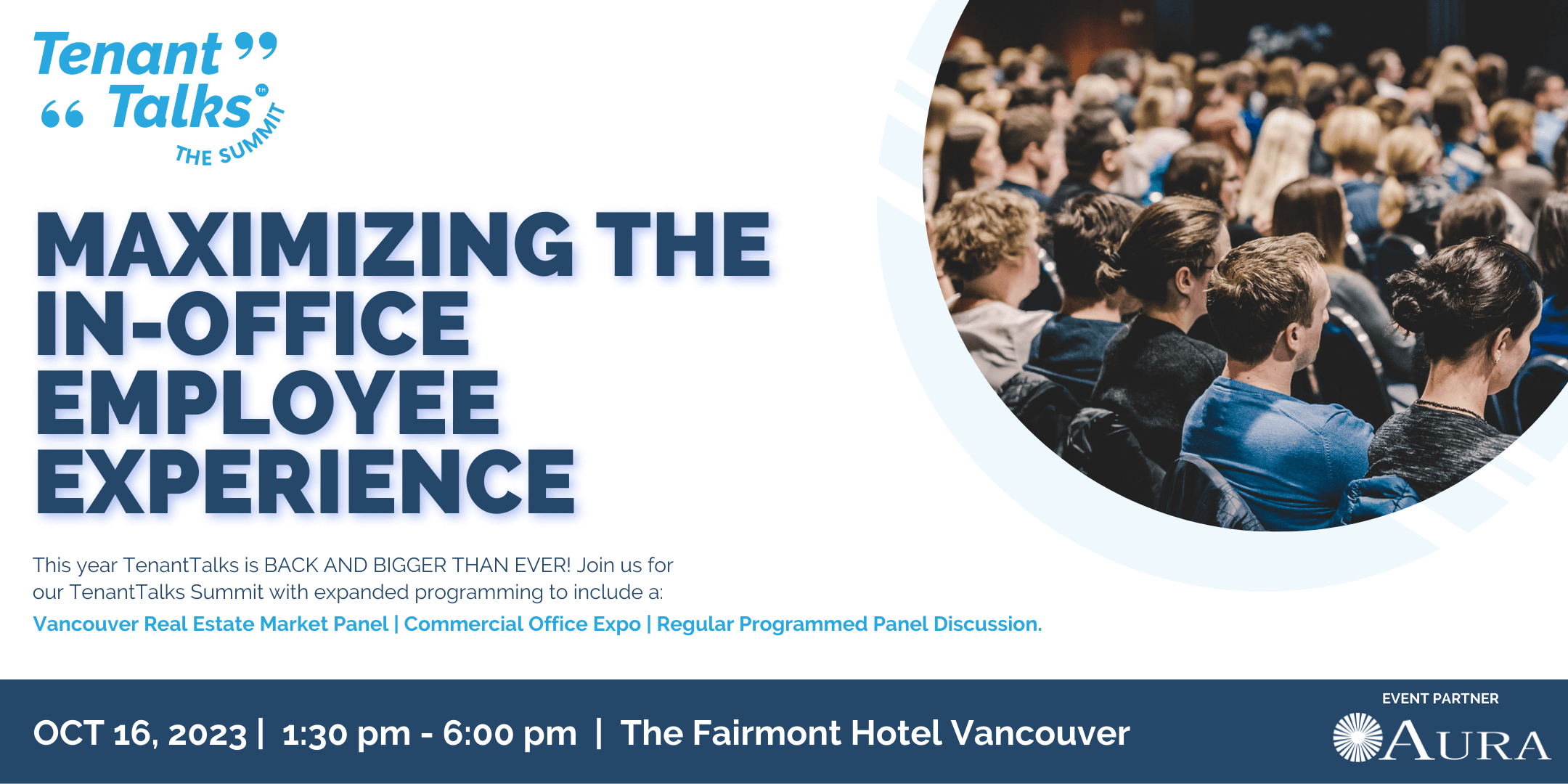 Don't miss this opportunity to take your workspace to the next level! Register now and gain exclusive access to in-depth insights and transformative discussion.
Click HERE to secure your spot today.