The modern office is a constantly evolving environment. Changes to working styles, industry best practices, and technology can prompt the need for a fresh perspective on your office space, and an impending lease expiration is the perfect time to reassess your current situation and weigh new possibilities.
It's a great idea to carefully evaluate your current space to determine whether your organization should pursue a lease renewal, or look elsewhere for a new space. Some motivators for this office audit could be available space for potential expansion, or a new office with lower rent to help maximize resources.
Having a professional conduct a workplace strategy session prior to space planning is a great way to begin this process, and there are many supporting initiatives your organization can tackle to help make the decision to stay or go an easy one.
Research the Market
As they say, time is money. Any potential lease expiration and/or renewal negotiations should begin as early as possible. We would recommend at least 12 to 14 months of consideration time, depending on your space square footage, to help facilitate a thorough review of your current space. The earlier that market research can begin, the better – even if you've decided early on to stay put; market research could allow you to negotiate a better deal with your current landlord if you're able to prove a more affordable market is out there.
When you begin your market research, remember that no two office spaces are the same. Buildings, landlords, locations, and incentives will always differ. Ask yourself a few questions when conducting market research, like:
What is the average market rent?

Are they comparable to your current lease and rental agreement?

Are there many desirable vacancies in your area, or desired neighbourhood?

Are you looking to upgrade your space?

Is a new commercial development an option for your organization?
Negotiation Preparation
Key to any negotiation discussion is an organized and prepared approach. Gather all your current lease and rental documents, and any paperwork you may have regarding your current building. Reviewing this information will help paint an accurate picture of your current situation, and whether there is any wiggle room for improvements. This documentation should include:
A current lease contract and rental specifics

Financial documentation (including operating costs)

Building info

Potential renovation or reconfiguration budgets

Projected organizational growth forecasts
This information will help you prepare for negotiations with your current landlord to discuss any new contract ideas. Being organized and studied will help reveal what a new ideal lease term should be. A smaller organization may wish to opt for a shorter lease term, with options to renew at predetermined time intervals. This approach gives businesses the opportunity to either sign for an extended stay, or jump ship when growth requires a larger space. This type of knowledge and flexibility is integral to successful lease negotiations.
We find many tenants leaving so much on the table when negotiating a lease such as tenant improvement allowances and landlord deliverables of the space.
Should You Stay, Or Should You Go?
What's important when deliberating whether to stay in your current space, or opt for a fresh start elsewhere, is the long run. Whether you choose to renegotiate your lease or find a new home for your business, your projected growth plans should hugely impact your thinking.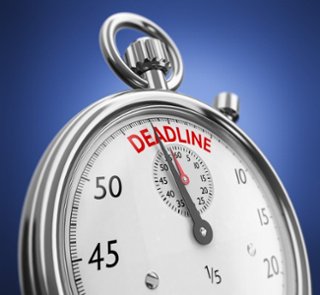 Go
If you anticipate the type of growth that will leave you with a 
cramped and inefficient work environment in a year, it may be best to consider taking a hard look at what's available on the market. Growth aside, moving may also bring about new working styles and methodologies that help foster efficiency and creativity within your organization.
A new space can prompt a rethink of how you work, and that mental change can in turn help create a stronger, more sustainable brand. A relocation may also be easier to consider when finding room for some financial savings and a more agreeable lease agreement elsewhere.
Stay
If you're in love with your current neighbourhood and office location, commercial space planning is a valuable weapon to have up your sleeve as a viable alternative to relocation. Creatively reimagining how to better utilize your current space can similarly usher in a renewed sense of productivity, creativity, and freshness from your office environment.
A space planning discussion should include all members of the team to decide whether consensus suggests a redesign is advantageous. Encourage input, brain dumps, and embrace any suggested changes to collaborate on a space that works for everyone.
—
Whatever your organization chooses to do, ensuring that your office environment stimulates real feelings of ownership and effectiveness is key. It's not always about the bottom line, rather how well your office suits the way your team can work together, how it inspires creativity and collaboration, and what type of space you can envision helping your team to grow together. Planning for this discussion is critical to your ability to make effective choices as a cohesive work community.
Back to Our Blogs