Workplace design is fluid and ever-changing. Understanding workplace design trends allows businesses to adapt to the times and the market, remaining ahead of the curve to ensure employees have an optimal working environment. With the advent of hybrid working and employees having greater autonomy over how they work, employers must research strategies to elevate their workspace to match the needs and demands of the current labour market. The Aura design team gathered to collaborate and discuss their predictions for workplace design trends for 2023. Continue reading to learn about top trends likely to take off this year.
Maximalism
 A new maximalist design trend theme is starting to emerge. Maximalism is a "style of art and design that rejects the rules of minimalism. Instead, exuberance is celebrated, and anarchic use of pattern, colour and texture are encouraged". Specifically, in the workplace, maximalism can be integrated more focused on smaller areas or vignettes within the office to create an experience or excitement. This can be achieved by adding a statement piece, such as an upholstered chair with a bold pattern or a colourful wall to add a pop of colour.
This trend can be seen in tangent with Pantone's colour of the year for 2023, Viva Magenta. Magenta is characterized as "brave and fearless, and a pulsating colour whose exuberance promotes a joyous and optimistic celebration." Overall, designers are noticing a shift away from minimalism's neutral colours and muted tones and toward incorporating elements of maximalism's more bright and bold palettes.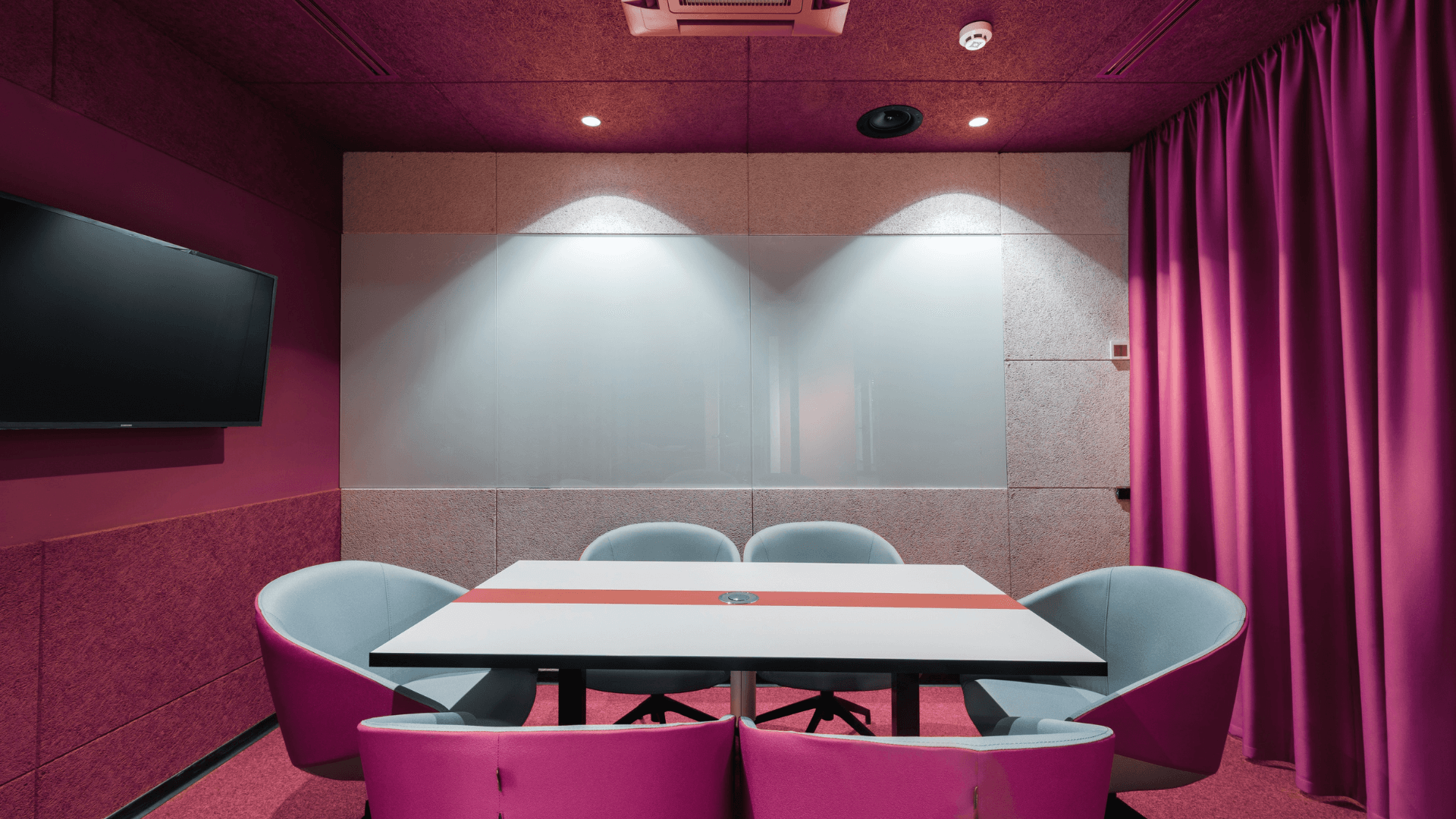 Textured materials for neutral palettes
When utilizing more neutral palettes, your eyes are not led by colour. Instead, different elements and distinctions, such as texture, will influence your line of sight. Textured materials can give dimension and provide a tactile sensation to designs.
Biophilia
Biophilic office design refers to bringing the outdoors indoors, or more specifically, into the workplace. It has been gaining traction and will continue to do so in 2023. A prevalent misconception is that adding plants and foliage equates to biophilic design; however, it is more complex than that. Some other ways to integrate biophilic design include increasing natural light and using raw materials such as wood and stone. The Aura designers are looking forward to new ways to think about plants in a space; different varieties than seen previously will be emerging as they get creative on integrating nature indoors. Dried pampas in a planter box, artificial cacti, and woodland escapes constructed with intention are just a few examples.
Furthermore, as technological advancements continue to permeate the workplace to support remote and hybrid working styles, biophilia is an effective method for counteracting overly tech-centred offices. Incorporating biophilic design elements such as plants and natural materials into the workplace helps to offset the adverse effects of technology while improving occupant well-being. 
Lighting 
Lighting in the workplace is an important consideration that affects productivity, wellness, and overall employee experience. Teams thrive, and the workplace becomes more efficient when illumination is strategically integrated. Designers predict a greater utilization of colour and light blending, specifically looking at how lighting can enhance colour.
In addition, there has been an increase in the use of lighting in conjunction with technology in the form of visual projections. To make a more aesthetically appealing atmosphere, artwork can be projected on walls or in specific office spaces. Projecting artwork frees businesses from the constraints of having artwork and images in a fixed position. It allows the artwork to be altered easily and conveniently as needed. Another lighting trend that will continue to rise in 2023 is using light to manipulate the environment, such as shadows, layers of light, and natural light, to create skylight components. 
Dining spaces
As flexible workspaces grow more prevalent in the office a workplace design trend we will see more of in 2023 is dining spaces. Dining spaces allow for more informal settings to double as meeting rooms or collaborative hubs. They can be enclosed and housed within lunchrooms, providing flexibility for meeting areas or touchdown locations for remote workers visiting the office.
Designing for difference- neurodiversity
Understanding the need for inclusivity within the office is a critical consideration for designers. The design team at Aura is increasingly aware that we are living in an era of increased awareness and acceptance of neurological conditions such as ADHD, Dyslexia, Autism, and others. Designing offices to support neurodiversity is more than just modifying to accommodate a specific group of people; it is about making spaces accessible to everybody and addressing a wide range of competing needs. Bringing together various skills and viewpoints is critical to forming diverse teams. Some design trends designers are seeing to accommodate neurodiversity are flexible workspaces, rhythm, and repetition.
Having different types of workstations allows employees to have flexibility when choosing how they want to work. Integrating different types of workstations, from private phone booths to lounge areas, creates more options than the standard private office and open workstation to accommodate varying cognitive and concentration levels. 
Furthermore, rhythm and repetition across the work environment creates familiarity. Offices with similar components from floor to floor or within a one-floor plate can help with navigation and offer a feeling of order within the workspace.   
_
Ready to begin your office redesign or renovation? At Aura, our highly trained interior designers are experts in designing engaging and agile workplaces optimized for diverse teams. We are passionate about creating office environments that improve talent retention by celebrating your unique company culture. Contact Us to talk with a workplace expert today.