Gauging the amount of widespread information available today may have you thinking office spaces must be metaphorical beehives — buzzing with borderline instinctual, relentless efficiency and productivity. While design commercial interior design strategy may be a common subject for the corporate crowd, actually putting that knowledge into practice is an entirely different beast.
Over the past couple of years, we've completed numerous interior commercial builds for our clientele. Our main goal is always to improve environmental factors that elevate office structure and growth – but it's the little things that matter most.
Here's our greatest hits list of three recent cutting-edge tech/law office builds that Aura Office Environments has helped transform.
Westside Family Law
Proudly serving the west side of Vancouver, Burnaby, Richmond, and New Westminster, Westside Family Law HQ lies in the heart of the South Granville neighbourhood.
They came to Aura looking to revitalize their office space to usher in a new era of customer service and project a renewed brand identity. We tackled this law office revamp using a three pillar system, addressing each issue with our trademark innovation and creativity.
Eco-Friendly
The existing Westside Family Law space wasn't cramped by any stretch, but its footprint presented a unique challenge in that there was no buffer or transition zone from the lobby to the offices of the business. We developed a fresh and modern design using reclaimed and salvaged cedar timbers in a dynamic, angled floor-to-ceiling partition to add warmth and humanity. Using these eco-friendly and reclaimed materials helped develop a unique identity synonymous with second chances and helped to create pivotal transition zones in the space.
Detailed
It's all about the little touches. Offices aren't the boring, stale spaces they were during the corporate cubicle surge of the 1950s; today's cutting edge modern spaces require a zest of life that helps differentiate them from their predecessors. Office art is a staple of any space, but we chose to present geographic representations of Greater Vancouver, the ocean, and the temperate rainforest in a unique way by suspending canvases from the ceiling, rather than have them conventionally hung on the wall. The result is a much taller space, helping the eye gaze upward and to a more modern installation process.
Materials & Linear Lines
Materials are every bit as important as the layout of a cutting edge office environment. We used a polished concrete to create a flashy focal point for clients entering this new space. Polished concrete is an incredibly hot material right now in many aspects of architecture and home design. We used strong linear lines to help create an artistic juxtaposition from the reclaimed timbers behind the receptionists' desk for a powerful intersection of organic and industrial textures.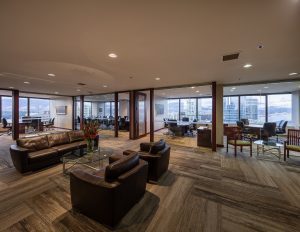 Owen Bird
The Owen Bird Law corporation is a full-service law firm located in downtown Vancouver. When we began working with this well-established brand, we integrated an office aura plan to maintain the traditional energy of the space, while integrating modern technology, some modern aesthetic changes, and successfully utilized the panoramic view of the city to bring the outdoors in.
Focal Points
We needed to help the space feel more open and inviting, so the team at Aura worked to select a unique carpet pattern that was both warm, modern, and assisted in carrying the eye throughout the space, rather than creating a solid block of texture on the floor. The result is an opposing linear carpet that creates a vibrant, stone-like appeal that carries throughout the lobby and private office settings.
Traditional Style & Modern Tech
This is an established and respected brand, and the team at Owen Bird were adamant that they pay respect to their past, and to the traditional pieces that help identify the space as a key player in the Vancouver law community. We integrated traditional pieces like leather chairs and sofa sets, dark and warm desks and wood accents, and modern neutral colour palettes with modern technology, and innovative modern accents here and there to update and differentiate the appeal of this stately and dignified space.
Utilize the View
We borrowed some of the ample daylight projected into the space via the large floor-to-ceiling glass windows in an effort to help Owen Birds' clients feel welcome. A view from an office is rarely as stunning as the one from these windows, so we embraced the water view, the mountains, and the urban centre below to solidify a stunning aesthetic that informed much of our material choices for the rest of the space.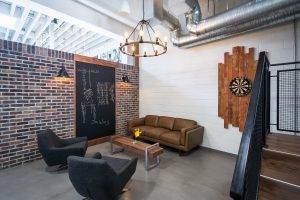 Brand Alliance
Brand Alliance is a North American leader in promotional marketing. They began as a Canadian grassroots company and soon expanded to work with some of the most respected and biggest brands in Canada. They hold a very strong dedication to environmental standards, strengthening community, and social compliance to develop their brand as a good neighbour involved with many local, national, and international charities.
The came to Aura invested with a belief that their space should represent their brand, and we jumped at the opportunity to work collaboratively with this like minded creative team.
Vibrancy
We used vibrant colours in furniture, and furniture accents to reaffirm Brand's dedication to multiculturalism, diversity, and flavour in the workplace. Using colour in this regard is a surefire way to develop a reinvigorated, fresh space with little time or investment.
Open Space / Open Communication
We created more open and airy seating areas for both staff and clientele to communicate openly. With greenery and a nice view as a backdrop for our revamped seating areas, this office space encourages inter-office creativity, open collaboration, and chance encounters that build upon a legacy of close-knit teams and enviable company culture.
We built a rooftop patio to assist in developing a dynamic work-based approach to work/life balance, giving the team a place to escape the hustle of the office and recharge their batteries, while simultaneously creating an in-house lunch/break room that's comfortable, inviting, and peppered with sleek modern touches like innovative media/tech and clean modernist lines.
Retro Style
Using an aesthetic that blends old industrial remnants found in their building like brick, exposed beams, and mortar, we integrated glass walls to keep the space open and inviting, while using warm wood accents and doors to continue a made-by-hand approach to the office design to incorporate the grassroots and human beginning of this continental powerhouse business.
Retro style played a big role in our environmental influences during this build, ushering in a sense of playfulness, humanity, and community. Littered with modern furniture pieces and comfy, warm leathers and pleasant fabrics, we think we hit the nail on the head.  
—–
Designs for cutting-edge offices are as varied and as engaging as they come. They're all about integrating employee satisfaction, work/life balance, and corporate efficiency into a realm of innovation, creativity, and vibrancy.
Further to the psychology of the office, the modern landscape of commercial office design is all about bringing the outdoors in, seamlessly introducing new technology, and making a statement about your environment.