At the center of every company is a purpose and vision, driven by a set of core values
At Aura, our values are passion, care, creativity, humility, and fun, with a purpose to positively impact people. Led by a multidisciplinary team, we continually dedicate time, energy, and resources in our community to support non-profit organizations and local charities. Every year, our team volunteers their time to give back to our community. Charitable initiatives are part of what gives our team purpose and motivation to continue doing what we do. Through our profession and volunteering efforts, we are committed to strengthening our community and creating a positive impact on the people around us. Continue reading to see how we aim to fulfill our purpose through various approaches.
TenantTalks
As a further commitment to positively impact people, Aura is the Canadian partner for TenantTalks™. 
TenantTalks is a global non-profit speaker series focused on topics and ideas to improve office environments focusing on how office design impacts how organizations function today and in the future. Featuring speakers from various industries, disciplines, and locations across the globe, TenantTalk's purely educational events bring leaders together for an opportunity to discuss their personal experiences, challenges, and ideas around the use of the office and the evolving ways that we work.
TenantTalks is a non-profit organization devoted to giving back to the community, with the simple purpose of providing a forum for collectively shaping the office of the future. For each event, a single organization is selected as the charity of choice and receives all proceeds from ticket sales. Charities are chosen for several reasons, but they all have the objective of effecting change and making a difference. Made up of four companies from Canada, The United States, England, and Australia, we united in our goal of raising one million dollars by 2030.
Give where we live initiatives. 
We strive to live out our purpose of "Positively Impact People" in two manners. The first is through our field of work and our vision for creating engaging workspaces where teams can perform their best. For every workplace we transform, we positively impact people by helping employees become happier, more productive, and have a better work experience. The second approach is through our "Give where we live" initiatives, in which our staff volunteers or donates to charitable causes. 
Recent initiatives 
Kit packing for Family Services of Greater Vancouver
Once a quarter, the Aura team comes together for a team day to have fun and enjoy a day of team building, activities, and giving back. For the first quarter of 2023, we enjoyed a wonderful day filled with ice skating and packing care kits. We partnered with Family Services of Greater Vancouver to assemble care kits to distribute to at-risk youth in the greater Vancouver area.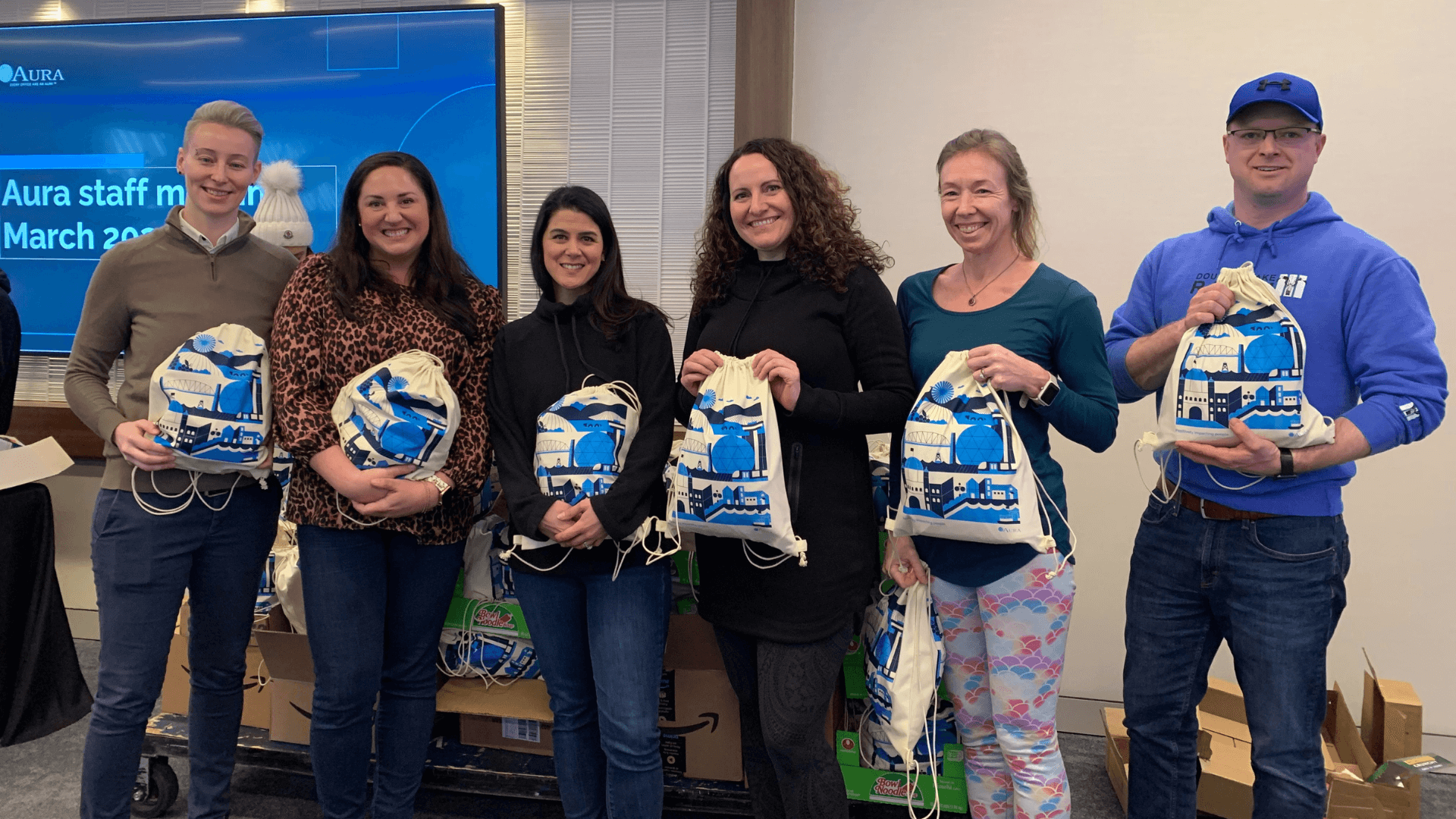 Ronald McDonald House
Aura's leadership team volunteered alongside house volunteers from the Ronald McDonald House to help prepare and cook dinner for 73 families residing at the Vancouver location. The Ronald McDonald House BC and Yukon helps families with ill children undergoing treatment by providing accommodation, hot meals, and other services that help put joy and normalcy back into their lives and give families a safe place to stay together under one roof. This was a unique experience; it was great to put our time and effort into such a fantastic cause. 
WeCare
On December 7th, 2022, volunteer members of the Aura team attended WeCare 2022. Supporting Frog Hollow Neighborhood House members and the surrounding community, Aura sponsored a craft table and had dedicated volunteers helping children assemble sock snowmen. The Aura team had a spectacular time volunteering their time and creative expertise, helping hundreds of children that attended the arts and craft fair. 
Ride for a Cure
In September 2022, the Aura team geared up for our second annual ride for a cure. Together our team cycled around the Stanley Park Seawall to raise funds for the BC Cancer Foundation and its ongoing fight against this devasting illness. From our fundraising efforts, we donated $5,000 for cancer research. 
Measuring our community impact
Through our giving where we live activities, Aura hopes to positively impact 800 individuals in 2023. To assist us in reaching this goal, we devised a course of action that includes four team days with the intent to impact 100-250 individuals per initiative. Each campaign has an aim for the number of lives impacted, and each one has a distinct way of measuring those lives impacted. Whether we are assembling kits that will be given to a certain amount of people or raising funds to donate to a charitable organization, we will keep track of how our initiatives impact people. Furthermore, we will have conversations with organizations when donating monetary amounts to understand how our contributions will be utilized.
Following the end of the calendar year, we will release an annual community impact report with specific findings and reporting from each initiative, as well as how many individuals each initiative has impacted.