The boardroom is the nucleus of strategic decision-making; it is a space where ideas are forged, deals are sealed, and the future is shaped. Initially reserved for board meetings with business owners, C-suite level executives, and stakeholders, today, it has morphed into a flexible area that provides a larger space for team meetings, presentations, brainstorming sessions, and events. As the purpose of the boardroom has changed, so must the design and layout. Beyond aesthetics, a thoughtfully designed boardroom is critical in facilitating efficient deliberations, fostering productive discussions, and steering organizations toward success. This article will explore the essential features every modern boardroom should have. 
Technological boardroom essentials
Technology is critical in the modern workplace, offering many benefits that enhance productivity, efficiency, and overall performance. Boardrooms are no exception. When equipped with technological features, boardrooms can help support the team and overall business success. In an era where data-driven strategies are paramount, a technologically equipped boardroom ensures that organizations stay agile, competitive, and adaptable to evolving market dynamics. Here are some innovative technological features to include in your boardroom: 
Interactive whiteboards
Interactive whiteboards or displays are "large touchscreen displays where employees can collaborate in real-time." It functions as a regular whiteboard, with the added benefits of a digital component which allows employees to interact with it on a computer and save content digitally for future uses. Interactive whiteboards help bolster collaborative sessions by enabling individuals to take notes, annotate content, and share screens.
Audio-visual and video conferencing capabilities
The way we work has been irrevocably altered by hybrid work. In today's workplace, employees can transcend physical boundaries, working both digitally and in person. This has caused disruptions to boardroom meetings. Therefore, to guarantee that all meeting participants, in-person or online, have an equally valuable experience, it is critical to invest strategically in audio-visual and video conferencing tools. Outstanding audio-visual and video conferencing promotes smooth collaboration and effective communication among team members, allowing for more productive meetings. Deloitte Halifax recently optimized meeting spaces with new plug-and-play high-definition cameras, speakerphone systems, and ultra-wide-screen monitors to elevate their video conferencing capabilities. 
Acoustic panels
Boardrooms are most often intended for private and vital conversations; therefore, it is imperative to have proper sound management. Ensuring the boardroom has acoustic properties to help with sound absorption can help with privacy and discretion. Acoustic panels are sound-absorbent surfaces that neutralize sound before it ricochets around the room. Integrating acoustic sound panels into boardroom design strategically enhances the aesthetics and functionality of the space, contributing to a more optimal environment. Furthermore, they offer design versatility, allowing for colour, branding, texture, and shape customization to enhance the boardroom's look and reinforce brand identity.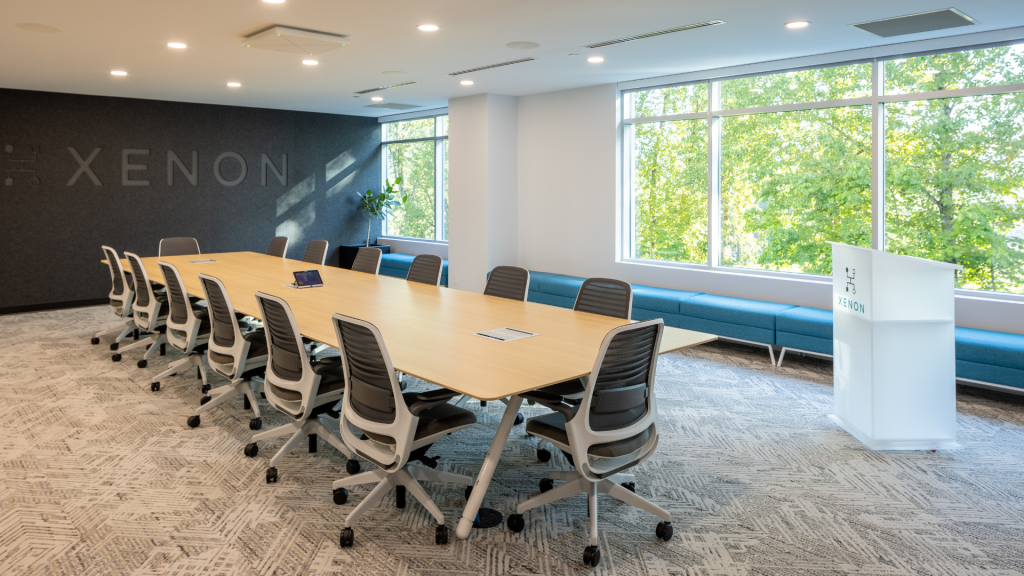 Furniture and comfort boardroom considerations
Careful attention to furniture and comfort considerations is paramount in crafting the modern boardroom. The choice of furniture and level of comfort for your boardroom should be influenced by its intended purpose. Is your boardroom meant for accommodating stakeholders and C-suite gatherings, requiring a professional and polished appearance? Is it a dedicated space for collaborative team meetings that requires flexibility? Or is it utilized for client meetings that would require brand representation? Overall, the room's design should align with the specific needs and objectives of the space. 
Here are some considerations to think about when designing your boardroom: 
Modular Furniture
Consider utilizing modular furniture that is easily reconfigurable and allows for spatial freedom. Opting for modular furniture that is mobile, foldable, and adaptable not only fosters a multi-functional space but also enhances the boardroom's design with an extra layer of flexibility.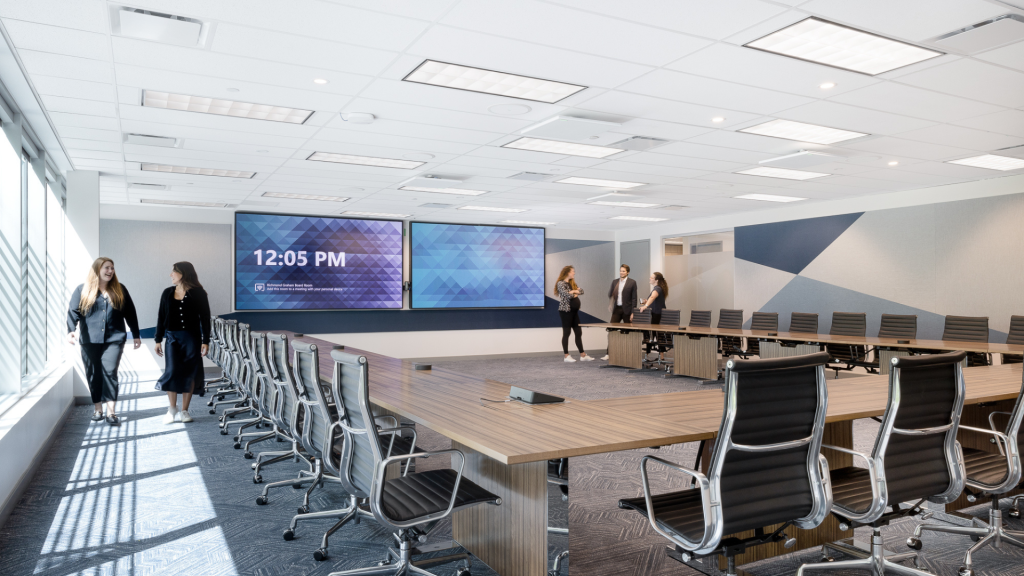 Ergonomic Furniture
Ensure seating is ergonomic and comfortable. Having low-quality furniture can negatively impact meeting participants. Prioritizing ergonomic solutions can enhance comfort, well-being, and productivity.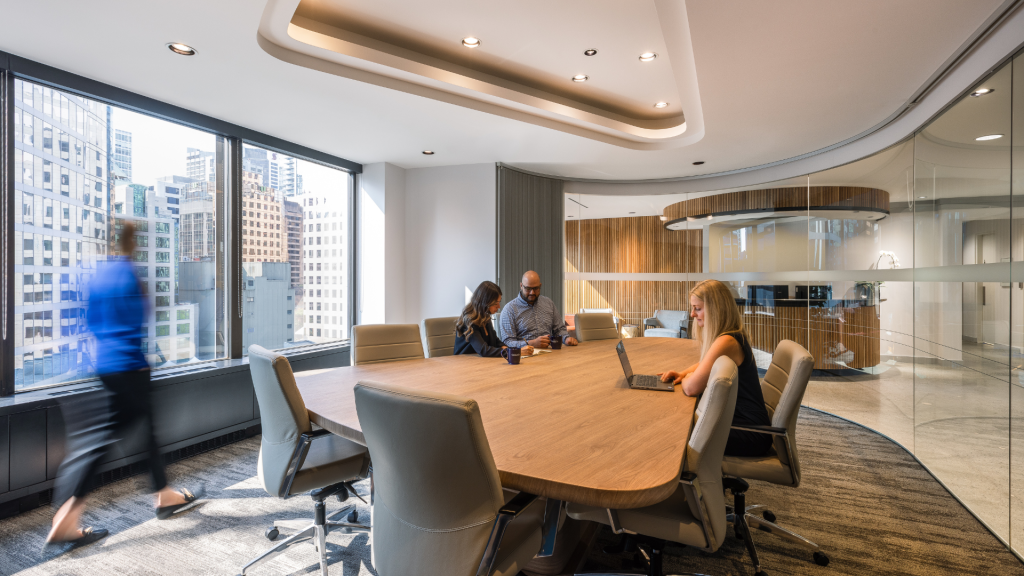 Boardroom Lighting
Avoid harsh and bright lights that can cause eye strain. Enhance lighting with natural sunlight or LED lighting.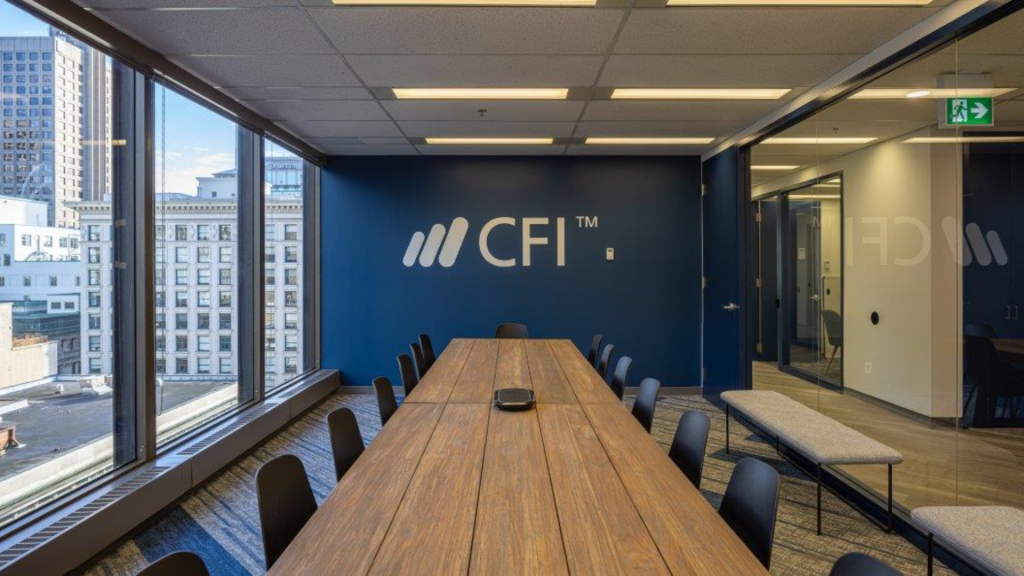 Different Seating Reconfigurations
Explore different seating reconfigurations to optimize meetings. From theatre style to Classroom to U-shape, there are several seating configurations suitable for the boardroom. Your audience must be seated in the best way to achieve the maximum outcome, whatever it may be.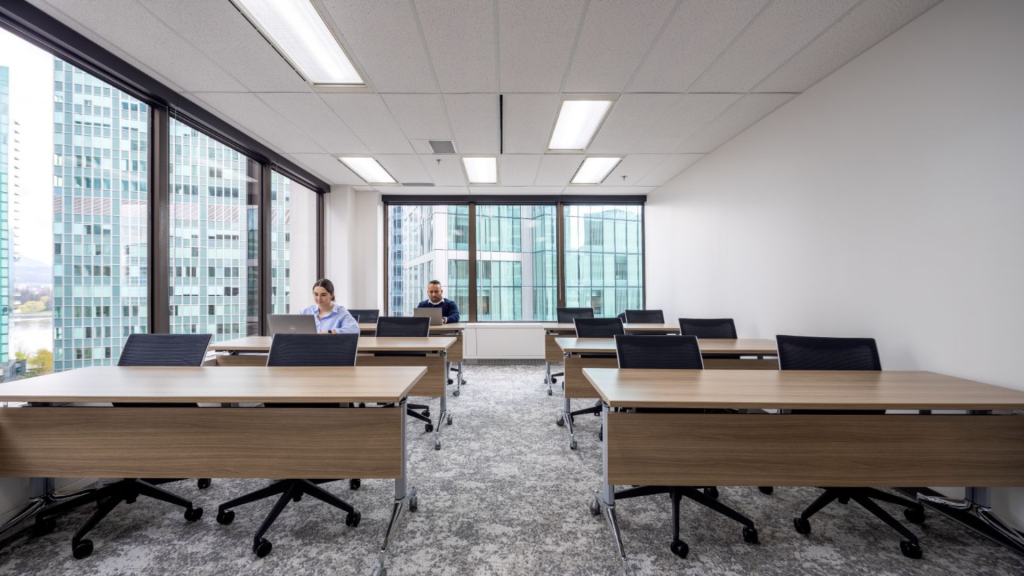 Final touches: Art, décor, and branding
After successfully outfitting the boardroom with furniture and essential technology, it is time to enhance its ambiance by adding the final decorative touches. From art to décor to branding, these final decorative touches elevate a space from ordinary to exceptional. Boardroom décor must be cohesive and consider aesthetics, functionality, and brand identity carefully. To create an inspiring and practical workspace, it is essential to include elements that reflect the company's values. Selecting artwork and decorative elements that align with your company's culture, mission, and values helps to develop a creative and motivating atmosphere. Branded elements such as logos and company colours can be tastefully integrated into the design, reinforcing the brand's presence and identity within the room. Decorations also provide a versatile touch to your boardroom design, introducing a fun element that is not locked into a fixed arrangement. Decorations offer an effortless way to dynamically transform your boardroom, allowing for the integration of wall art or biophilic elements that can be easily switched out to infuse a fresh perspective on the space. 
The boardroom as an event space
Evidently, the workplace's purpose is undergoing a profound shift. No longer is it everyone's primary place of work; instead, it is evolving into a hub for collaboration and culture-building. The boardroom, typically the largest room in the workplace, can play a pivotal role in this shift. Beyond its conventional meeting use, it can now be an event space. When flexibility is integrated into boardroom design, it can offer a multitude of benefits. It enables organizations to host workshops, seminars, and team events, creating an environment that supports camaraderie. This transformation reflects a broader trend towards more flexible, dynamic, and people-centric workplaces that boost work and culture.
Conclusion
To conclude, designing the boardroom is a multifaceted endeavour that requires careful consideration. Companies can create a state-of-the-art boardroom by carefully considering technological integrations, ergonomic furniture, acoustics, flexibility, and branded design details. It is about finding a balance between functionality and form so that the boardroom not only impresses visually but also fosters user collaboration and productivity. Furthermore, as the business landscape grows, staying attuned to design considerations will ensure your workplace remains a hub for decision-making and innovation.
Unlock the full potential of your business by partnering with Aura- a seasoned design-build firm bringing years of expertise in creating engaging workspaces tailored to your unique needs and aspirations. From collaborative and innovative designs to fostering a positive, inclusive culture, let us craft a workspace that inspires creativity, encourages teamwork, and maximizes the well-being of your valued team members. 
Contact Us today to learn how we can help with your next office renovation.