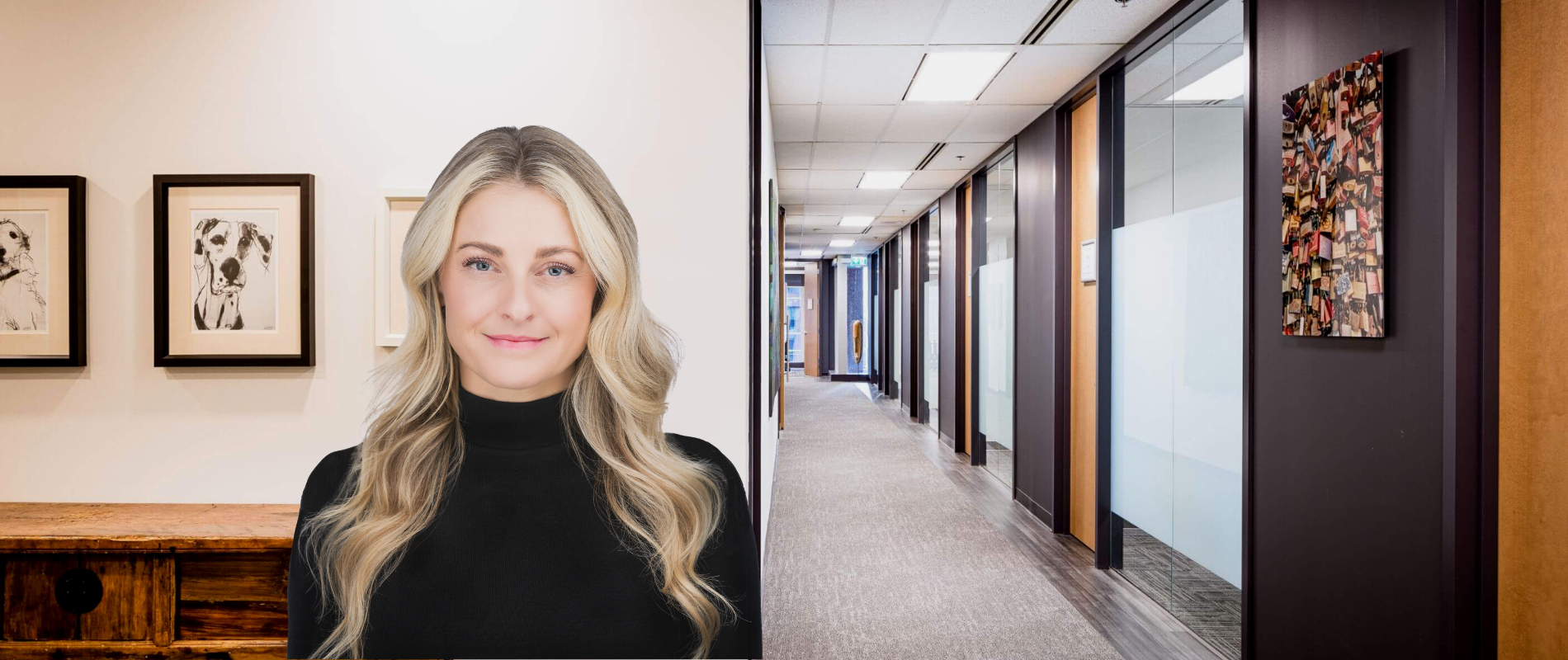 From East to West: An Interview with Design Director Veronica De Verneuil
Workplace design encompasses a wide range of styles. Because Canada has one of the largest geographical masses, there is no doubt that design preferences will differ from coast to coast. We spoke with Veronica De Verneuil, our Design Director, about her experience designing in Toronto and Vancouver and her thoughts on the west coast. Read on to discover more about her extensive experience on the Canadian east and west coasts, how workplace design has evolved, and what it is like to manage the AURA design team.
Q1. You have been a workplace designer for 14 years; how would you say workplace design has evolved?
Technology has had a significant impact and changed when and how we work. Throughout the years, technological advances have affected offices and how employees operate. The most dramatic change I would say came from COVID. The commercial interior design/build sector has undergone a significant shift, developing, and enhancing their audio-visual equipment and reducing their reliance on paper. Furthermore, almost all businesses have embraced a hybrid work environment. A large number of companies have opened up to a hybrid work environment. This push emphasizes that the built space demands more flexibility for different work styles.
Q2. Before moving to Vancouver, you designed spaces in Toronto, is there any significant differences between client preferences in Toronto vs Vancouver?
Yes, I have noticed a difference between the west and east coast. Here in the west, we are so fortunate to be in a city surrounded by nature. The parks, rainforest, mountains, beaches, and ocean all play a significant role in design. I have noticed that clients on the west coast want to feel connected to nature in their spaces. Designers are witnessing a strong trend for wood and natural raw materials such as marble and granite. In contrast, the east coast, particularly Toronto, is home to several major organizational hubs, and you will notice more refined and polished finishes. The east prefers clean and professional workspaces with pops of primary colors and branding connections.
Q3. How is it leading the design team? What motivates them? How do you encourage collaboration and problem-solving?
Leading the design team is incredibly rewarding. I feel deeply connected to the entire team. I strive to establish an un-hierarchical environment where everyone supports each other, and no one is hesitant to disclose any mistakes.
To ensure a positive design community, we organize team outings to have fun and get to know each other better. I believe that by breaking down barriers and coming together as a team, I am able to help foster a deep connection among the whole team. In addition, the design team meets monthly for Design Charrettes. Design charrettes led by one or two designers are excellent opportunities to learn and exchange new ideas and concepts. I also meet with each designer monthly for one-on-one check-ins and mentorship sessions to understand how they are doing, what they are struggling with, and how I can help them. I always strive to be very approachable in my leadership.
Q4. What are your goals for the design team next year?
My main goal for the design team next year is to apply for more awards and try and get AURA's name out there more. We are doing incredible work, and I am deeply proud of all our projects. I am hopeful that next year we can share our triumphs with the rest of the world.
Q5. What is the most rewarding thing about tour job as Design Director?
The most rewarding aspect being Design Director is working with such amazing people! Everyone I interact with at work is such a joy. Going into the office, I am confident that all my job interactions will be pleasant. From meeting with clients to aiding interns to collaborating with the design team and engaging with the rest of the AURA team, I love interacting with everyone.
Q6. What has been the biggest challenge you face as Design Director?
As Design Director, I oversee the execution of all design projects. I play a critical role at the management level, designing and implementing systems that facilitate the flow of information within and between departments. The biggest challenge I face in my position is managing all the schedules and aligning project timelines between the client and our team. Clients do not always provide the information we require to align our timelines. I really need to advise clients about timeframes and emphasize the importance of maintaining clear communication about project timing. Having a clear and aligned schedule reduces the possibility of the schedule shifting and the move-in day getting pushed back. As a result, communication is essential in my role.
Q7. What's the best project you have ever worked on?
I was part of the team that designed TJX's headquarters in Ontario. TJX is the headquarters for Winners, HomeSense, and Marshalls. This project stood out to me because it placed a heavy emphasis on workplace strategy and finding ways to handle the firm's tremendous growth at the time. After undergoing workplace strategy sessions with the team, I understood better how the staff worked and what design aspects would help their operations run smoothly. We collaborated with the client to plan the workplace for the next 5-25 years and designed a beautiful office that improves the employee experience.
Q8. How does Aura's design process differ from other firms? Do you notice any specific benefits?
A holistic approach is the most thoughtful. Everyone on the project has a sense of responsibility and ownership for the whole project not just one aspect. Designers can work alongside Project Managers, and both learn valuable lessons from each other. Every day we all contribute to enhancing each other's knowledge for a truly thoughtful process based on knowledge and shared experience.
Q9. What attributes do you think a great interior designer needs to have?
Thoughtfulness/ empathy: We design for people. By taking time to understand them and put ourselves in their shoes, we can better imagine a space which caters to their needs in the built environment.
Strategic Thinker: A good quality for an interior designer is to be a strategic thinker. Assisting in project planning and having foresight into potential snags in a project before they occur is a tremendous benefit. Having a futuristic mentality for larger projects is critical.
A passion for creativity: Creativity runs deep in everything designers do. We work through challenges daily, and it is imperative that designers can come up with creative solutions that will boost the project outcome.
Q10. What advice would you give to any aspiring interior designers out there?
Discovering yourself and who you are is the most valuable gift you can give in a creative career. After you have uncovered yourself, you can figure out what you're passionate about, allowing you to infuse it into every aspect of your work!