The world of law and the legal sector has never been more complex. The industry can be fraught with sophisticated and intricate nuances that contribute to its intimidating nature, and its reputation as both a firm and serious business creates hurdles for employee attraction in the age of the booming millennial employees that values openness, collaboration, and a dedicated work/life balance.
Millennials in the legal sector
The millennial workforce represents the largest employable demographic on earth, overtaking their parents, Gen X, in 2015, with a now 53.5 million population. Many millennials are looking for work, and with the growing number of job search engines, there is an abundance of people looking for work every day. However, despite the sheer number of students, interns, and young  law professionals to choose from, employee retention and attraction are ongoing challenges that growing law firms face.
Many of these new millennial talents are insistent on having the opportunity to work from home several days per week. While this can add to the existing complexities of the legal sector, the idea of more flexible work spaces that accommodate more casual working arrangements can spur on boosted employee retention, productivity, and workplace satisfaction.
Attracting and retaining employees from this new crop of top law talent is rather simple: growing law firms have two choices: keep offices and spaces as-is, or embrace what millennials want, striving to accommodate flexible working hours and environments.
The existing aesthetic of law and its working arrangements can shift to embrace multipurpose spaces that cater to the evolving nature of employee mindsets and lifestyles. This article will explore different ways to attract and retain new employees using office design. 
Promote a balanced lifestyle
New, young employees want and need their bosses, managers, and upper management to understand flexibility is of the utmost importance. This means embracing that while work and deadlines is critical to job success, where and when work is completed is becoming more of a debatable question. Millennial employees need a flexible space that accentuates a work/life balance that compliments their desired lifestyle.
Entrepreneur tells us that formal barriers exist in classic workspaces and office environments. In order to break down those walls and attract new employees, an injection of purpose and passion is absolutely necessary to instill a sense of pride in young employees. The modern office space must satisfy and absorb a blend of work and life, contributing to a sense of interest and of passion. The 5th annual Millennial Impact Report, commissioned by the Case Network proclaims 90% of surveyed millennials who were happy with their workplace noted they were able to contribute to some form of positive change in the world; this cannot be ignored by growing law firms.
The spaces, offices, ideals, and energy of our spaces must always be focused around creating positive change to attract and retain new talent. This lifestyle contributes to work culture, morale, energy, and willingness to help change occur.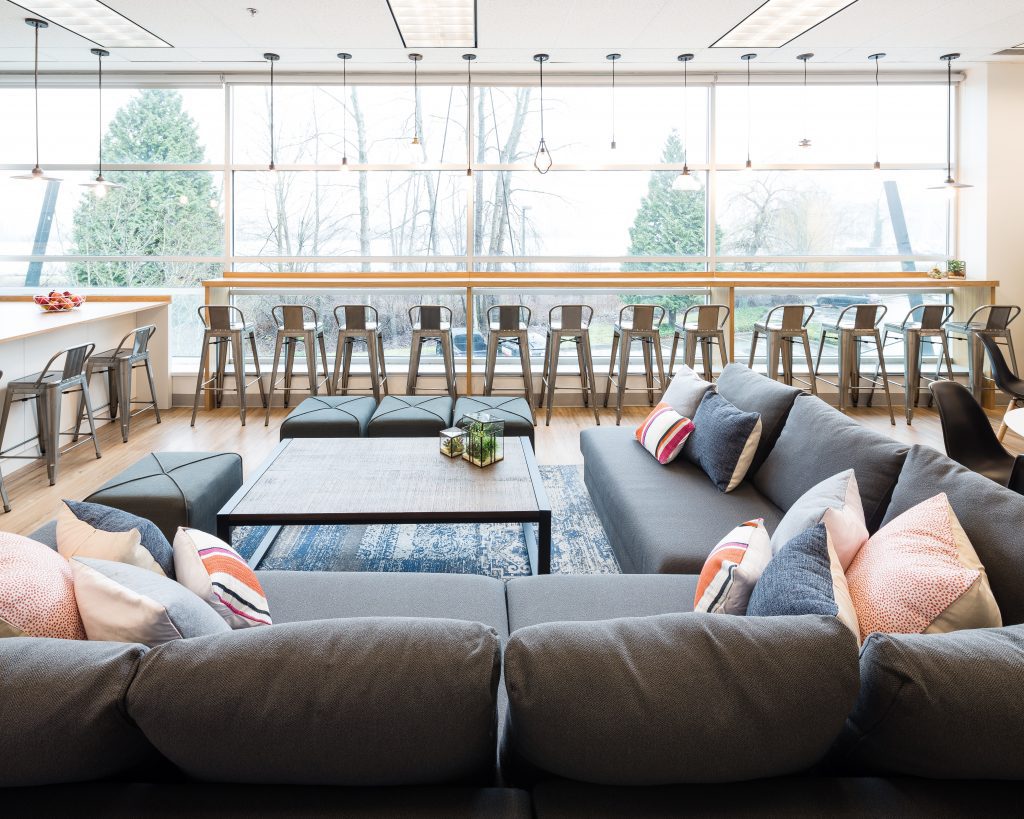 Collegiate & at-home spaces
Successful employers know that millennials despise the concept of private and isolated cubicles. This means that law firms can follow the lead set by tech companies in welcoming and embracing the concept of collaborative and/or collegiate spaces that help create an easy transition for law grads exiting post secondary school. In a time where 90% of corporations recruit from university campuses, integrating a collegiate work environment helps transition employees to a new setting. 
Interestingly enough, KI Research found in a recent study that 82% of new hires experience a period of feeling "lost in translation" for 6-12 months – and only 16% of companies attempt to provide a space that responds to this issue. A primary feature of the post-secondary experience is also having the opportunity to work and study from the comfort of one's dorm. This collegiate-influenced ideal may also help transition new hires by allowing them the opportunity to work from home.
The Legal Intelligencer tells us in a recent article that firms unwilling to embrace the shift in working environments are inevitably going to miss out on the fact that mobilized employees are more engaged, and more productive. The article tells us that expecting modern employees to work from dusk to dawn in the office is "outdated" and "not sustainable," citing that even Gen X and Gen Z are requesting at-home working arrangements. Firms that embrace mobile working arrangements attract greater talent that stay loyal to the firm thanks to livable schedules, and the cost-effectiveness of lowering overhead.
Collegiate design incorporates shared working environments, conference areas, and third space areas that help give employees the freedom to choose where and how they work re key to bridging the gap between the mobilized employee, and employees who will see benefits of using reinvented collegiate work spaces.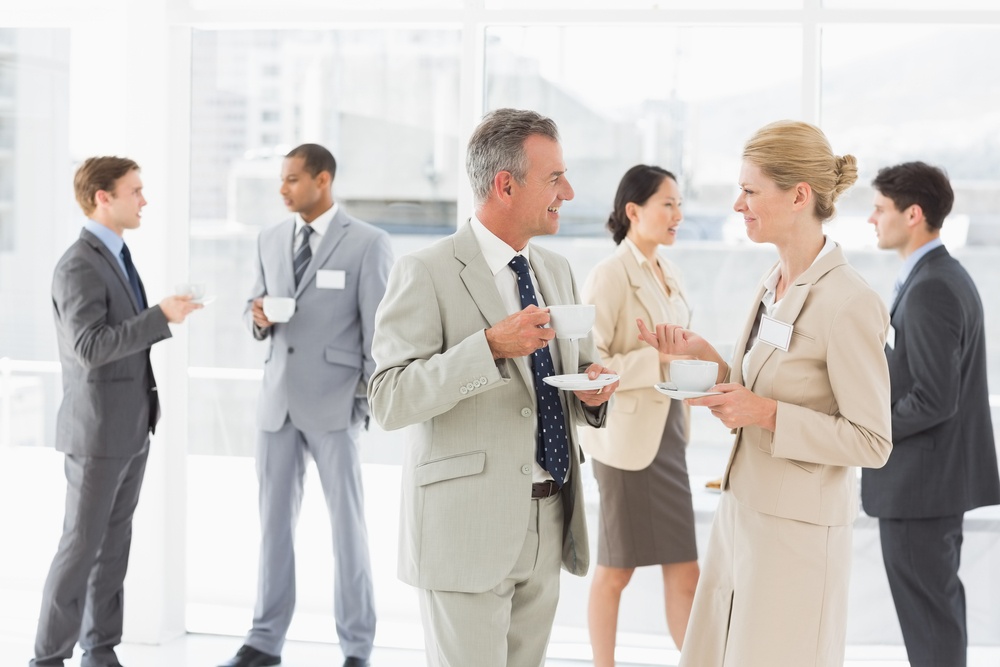 Café  and multipurpose spaces
This may come across as trivial, but new employees and young, top talent have grown up in an era of readily available European style coffee shops and cafes that cater to a sense of calm, and community. The office cafe space is a powerful and authentic way to both take the edge off a stagnant working environment, but also as a space to inspire out-of-the-box thinking, and collaborative, cooperative discussion. Further, these multipurpose working spaces within an office environment help encourage the perceived balance of work and life. A café or multipurpose space is crucial for millennial employee attraction and retention.  
This space can also include fresh, healthy food as an on-site benefit to new employees. The Staples Research Index tells us that young employees value healthy food more than a fitness facility when it comes to a workplace wellness initiative. Coupled with access to natural light, an office café or multipurpose space works to integrate quality of life and a work/life balance into the mix of the classic office environment.
The archetype of the café has been the quintessential gathering place for the world's foremost influencers and intellectuals for over a century, so why not leverage that history of balance and comfortability by injecting your law office with the perk of great coffee and open working spaces that don't feel like a standard office. Investing in a dedicated space to gather with coworkers over a specialty cup is quickly becoming a major attractor of top talent and millennial employees.
What this means for employers
Attracting new employees to your growing law firm is a far less intimidating when a more informal approach is taken to understanding who these new employees are.
Adjusting the organizational approach to the traditional law office concept is key to adapting and evolving with modern employees who expect more from their working arrangements. Accommodate for two work-from-home days per week, and consider reinventing existing multipurpose spaces to embrace flexibility and employee freedom.
When we consider how important positivity, flexibility, purpose – and even a good cup of coffee –  are to young talent, we're able to cater and build the perfect environments from which to attract new employees, and instill passion and loyalty from top law talent.
Back to Our Blogs