Aura Office Environments "AURA" has released the new Aura Home Office package, a kit that targets to improve the well-being of your team while working from home. It is based a la carte and the full package would include a height-adjustable desk, a classic office chair, a storage ped and a wide range of accessories; desk mounted power, monitor arms, screen options, mouse and keyboard options, and more. See below for a full list of add-ons. 
Home Office Wholesale
If you are an employer, looking to provide adjustments to your team with the shift to working from home, there is a countless supply for wholesale home office desk orders, with deliveries that can be made in groups of 30, 100 or 300 and more. Aura's process is seamless and would bring you insight into how to determine what is the best fit for your staff and organization as a whole. Aura will analyze your unique situation to the current shift in working, create a staff assessment survey to understand how your staff are working from home, create a recommendation report of findings and finally procure and deliver the desired products as well as virtually train your staff on how to use their new setting.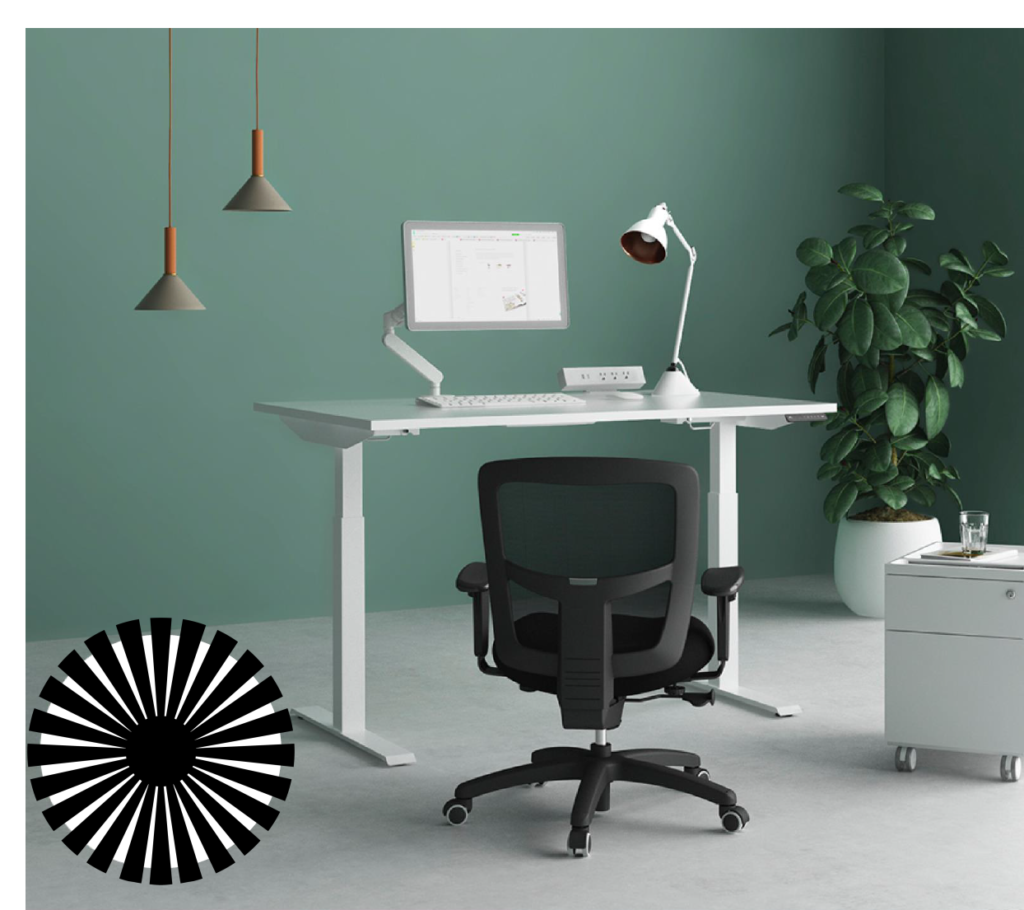 Why the AURA HOME OFFICE?
#1 – Increase staff productivity
#2 – Mitigate risk of WSBC claims
#3 – Ensure well-being of staff
#4 – Maintain a productive working environment
"Always treat your employees exactly as you want them to treat your best customers". – Stephen Covey
The AURA PROCESS

Delivery?
It's rapid and seamless. Deliveries ship from the factory within 48 hours. There is free delivery in the metro Vancouver area and is delivered straight to each of your employee's doorsteps.
Employee Home Office Setup
Aura Home Office was an idea that branched from the COVID-19 outbreak that has rocked the world. Aura has been a design-build-furnish company in the Metro Vancouver area for many decades, and when this unprecedented turn of events changed the way the world works, Aura decided to take its service from the corporate office to the home. Instead of furnishing office spaces with high end ergonomic furniture, Aura wants to bring that to your home, providing you with all of the necessities to work comfortably and effectively.
This shift to remote working, particularly working from home, has many organizations questioning their remote work policy, with many leaders considering increasing remote work opportunities. Kate Lister, President of Global Workplace Analytics (GWA), estimates that we will see 25-30% of the workforce working at home one or more days a week within the next two years. Lister also describes the waste of space and money in the office that is a result of staff working from home more often. "Employees around the globe are not at their desk 50% to 60% of the time… a typical employer can save about $11,000US per year for every person who works remotely half of the time" she concludes.
What is an Ergonomic Set Up? 
The Aura Home Office marries ergonomics and design into one to create the perfect ergonomic workplace. For those that are unfamiliar with the term, ergonomics is the study of the interaction between people and the tools they use. In this case, the furniture. This includes everything from the chairs you sit on, the desk you use and even your posture while typing is a component of ergonomics.
Why is this so important? Cory Porteous, the Director of Marketing at Office Interiors, explains that poor ergonomics can lead to chronic repetitive stress injuries (RSIs) and has repeatedly been one of the most significant workplace risks. In fact, a study by the  Norwegian State Institute found that "after the common cold, muscular soreness was the second most common cause of absenteeism at work" (M. Franz Schneider, Ergonomics and Economics). Simply working from your dining room or kitchen barstools isn't sustainable long term and could lead to serious injuries.
Full List of Features 
A full list of accessories to add on to your Aura Home Office kit:
 

Monitor arms

 

Screen options

 

Mouse and keyboard options

 

WIFI routers and boosters

 

Mobile acoustic screens

 

Desk mounted power

 

Desk plants
Contact us today to receive more information about the Aura Home Office package. After the current pandemic has flattened and people return to work, this furniture could come back into the office space and replace some of the old furnishings in your space. Remember, it is crucially to be ergonomically set-up for the long haul.
CONTACT US
Back to Our Blogs