The company
Over the course of 40 years, Westland Insurance has established itself as the country's largest independent, Canadian-owned brokerage. The company continues to expand coast to coast with a national presence of over 200 locations and over 2,400 employees. While the company has become national in scope, it has never forgotten its roots or the neighbourhoods and communities it serves. To better accommodate its teams, Westland focused on strategic workplace design and consolidated its three Surrey locations into a single, 83,000-square-foot multi-level central head office.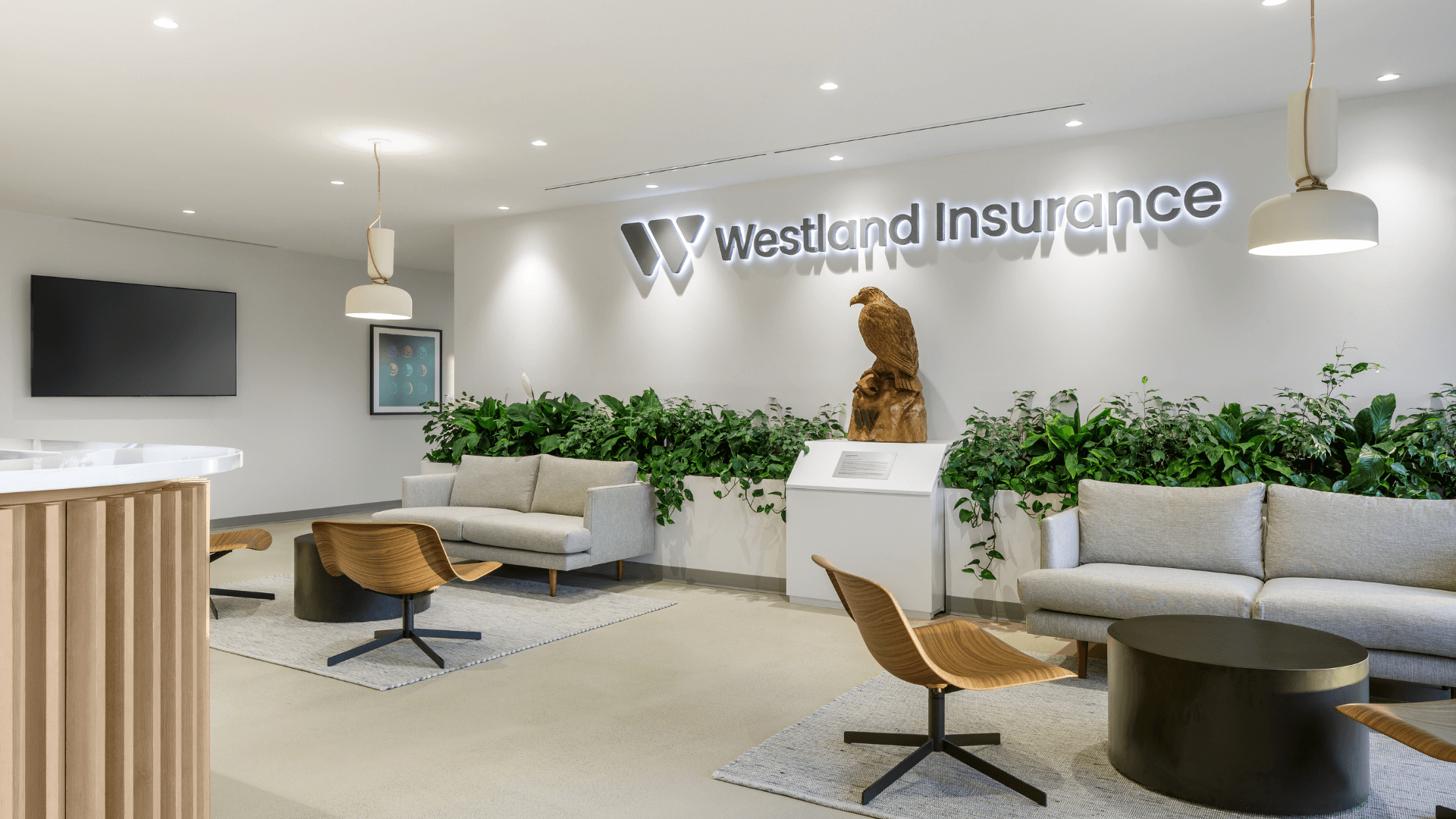 The problem 
Westland has experienced tremendous growth in recent years. Due to its exponential growth, Westland decided to merge offices and design a new workplace that would bring people together while allowing room for company growth. At the same time, the organization updated their brand to give the company a fresh look. The project's goal was to use strategic workplace design to assist create a workplace that accurately reflected the company's new brand and showcased its inclusive and inspiring identity and culture. Another issue the company faced was that the previous three locations were dispersed and not as easily accessible to all employees as they would have liked. They felt employees lacked collaborative spaces with several smaller offices and had little corporate-wide connection. To address this issue, Westland relocated to a more central location where staff can come together more often and maintain a strong company culture.  
The solution- strategy
Westland selected Aura due to our leading workplace strategy process, which helps tenants successfully plan their future office space needs. The first phase includes leadership alignment and a company-wide assessment. Successful top-level alignment improves cross-organizational outcomes. That is why, at Aura, our process begins with leadership alignment to ensure effective scenario planning while navigating the change that comes with a project. The company-wide evaluation is used to identify workstyle personas. Using Pivvot, our data-driven people-powered analytics platform, workstyle personas are generated and used to forecast how individuals will operate in the future workplace. The knowledge acquired in phase one directly informs phase two.
The second phase involves a scenario planning session in which various scenarios at various budget levels are presented, arming clients with plenty of information on what to consider, and what to avoid, and assisting them in determining their square footage needs. Results from the workplace strategy revealed that Westland was looking for 20% more office space than they required. With the help of Aura, they were able to reduce their square footage needs and increase savings.  
The Solution- Design
The outcomes of the workplace strategy had a direct impact on the design. Designers worked with the Westland team to design and develop a modern, flexible workplace that would support hybrid working, reflect their brand, and encourage connection among their vast network of employees. During a visioning session, the design concept of 'Inspiring and Approachable' emerged. The goal was for each floor to have a consistent welcoming feel. Repetition is seen throughout the space in the layouts and elements to provide a calm and approachable atmosphere. On each floor, social, support, and collaboration spaces are in the same or similar locations, providing familiarity within the space and allowing staff to navigate the different floors seamlessly.  
Featured Concepts and Elements
Connection
Connection was at the forefront of the design. A staircase between the top two floors was added to allow connections between floors. The staircase allows employees easy access between the workstations on the 14th floor and the reception and the Westland Bistro on the 15th floor. Location and connection to the natural world were also significant design considerations. Local materials were selected, and plant species native to the province was chosen over more tropical foreign plants. Furthermore, an organic design with an emphasis on natural elements was selected to emphasize Westland's connection to Canada.  
Inclusivity
Another key focus for the project was to design a space that reflected Westland's values, culture, and vision. As strong advocates for equity and diversity, creating an inclusive environment was imperative. Working with art vendors, distinctive artwork, accessible signage, and graphics that supported diverse artists were chosen. Each floor features artwork by local, Indigenous, LGBTQ+, and upcoming artists. 
Modular Workstations
Workplace strategy identified five workstyles required for employees to perform at their best. There are individual desks, informal spaces, virtual rooms, group desks, and meeting rooms throughout the floors. In addition, modular planning was incorporated into the design to accommodate company growth and future changes in the organizational structure. Workstations are simple to reconfigure to meet the needs of the workforce. If necessary, large meeting rooms can be divided into two offices, or an office can be divided into two smaller spaces. Overall, the workplace is highly adaptable and malleable to best meet employees' needs. 
Catering Kitchen
The top floor houses several design elements, including the reception area, conference room, lunchroom, and kitchen. A unique component included in the design is a catering kitchen. Westland hosts several internal and external events throughout the year. To accommodate all their events, designers included an extra back-of-the-house kitchen where catering companies can have a designated space to cook and prep for events.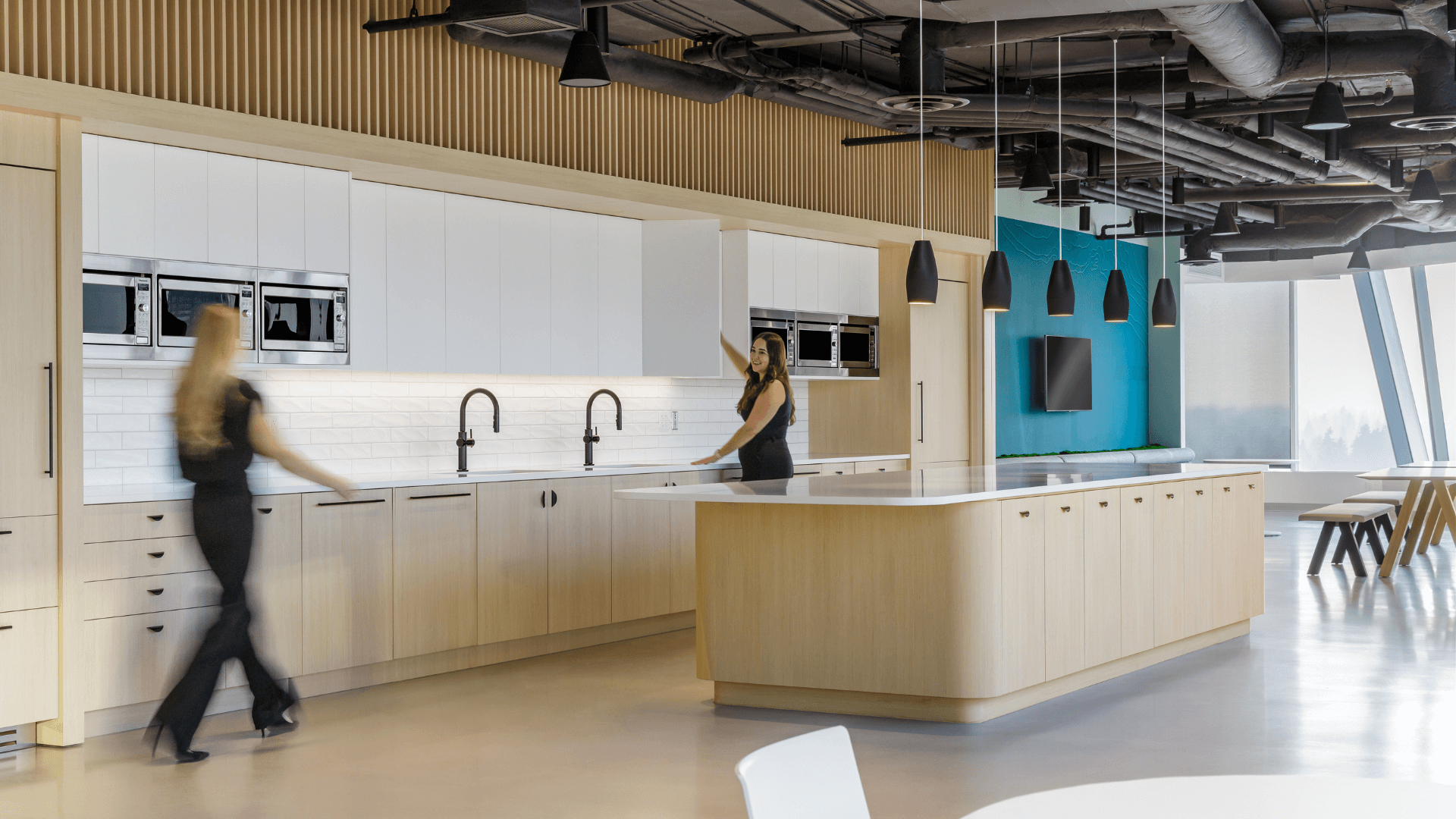 The outcome
The new headquarters was built on the foundation of strategic workplace design. Guiding Westland through a workplace strategy that directly impacted the design and ensured that the new office is tailored to the needs of its employees and business, allowing their team to thrive. The new Westland office reflects who they are: inclusive, connected, inspiring and modern.    
Diverse perspectives are the foundation of our holistic approach to designing truly tailored workspace solutions. Whether your office is built for less than 50 employees or over 200, the team at Aura is ready to learn about your unique workspace challenges and find a solution not just for you but with you. Contact Us to learn more about how we can help.  
Back to Our Blogs