---
When the time comes to paint your office interior, (whether it's a new building or you just want to mix up the look), selecting the right colour is not something to do hastily.
As we mentioned in a previous post, a modern office is one in which your employees actually enjoy working. You must give this decision some serious consideration, and avoid indiscriminately selecting any palette at a paint store.
Studies show that the colour of an office has a direct impact on employee performance.
Think about it… Does a beige office seem like the type of place that will give your employees a boost of energy and fresh ideas? Probably not.
---
EMOTIONAL EFFECT
Your colour selection can actually have a range of emotional effects on your employees, including:
For those of us who are always hungry, that last one might not matter so much. But fact of the matter is, you want to choose the colour that will both improve employee performance and support retention.You don't want your office environment to come across as stale or outdated to prospective employees.

PLANNING YOUR PALETTE
To help you better plan your office colour palette we decided to put together a few ideas based on trenda in commercial paint design in 2017. And, depending on your business operation, we've also provided a little insight into the effects these colours could have on your office culture.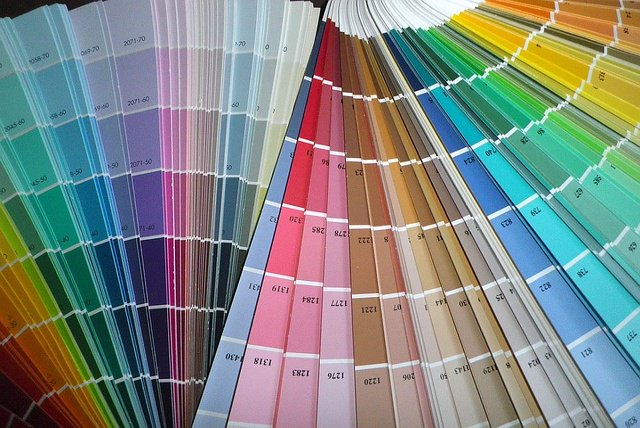 Yellow
A bold choice indeed. But, when you think about it, yellow brings a rush of energy through its brightness and vibrancy. This can prove to be beneficial to an office that relies heavily on creativity or tight deadlines.
2017 Favourites
Red
Known to evoke strong emotion and passion, red is a great colour for those looking to inspire their coworkers and teammates. And on top of that, it's a great choice for offices that are open late, since red is known to stimulate brain wave activity.

For those looking to keep their employees inspired and energized even after long hours, red is a smart choice.
2017 Favourites
Blue
A lot of modern office design incorporates blue as it is known as a stable and calming colour that promotes productivity. Blue is also known to encourage trust & communication especially in times of conflict.
This would be a great pick for a fast-paced, competitive office culture. If you have a number of different teams collaborating with one another, blue might be the right route.
2017 Favourites
---
DESIGN DECISION
You can use more than just your employee handbook to set the tone for your office culture. Get out in front of it and do some serious planning to pick the best paint colours for your office space.
Take a look at this collection of 2017 colour trends. Choose wisely!
We hope that whatever colour you end up choosing, it pairs well with the environment you have created or wish to create for your office!
The AURA Design Team is always excited to learn about how we could help with your commercial office interior design. See if you qualify for a free complimentary design consultation by clicking below.
Back to Our Blogs