COVID19 has forced companies to pause and rethink how their office space will look in the near future. We are forced to adjust how we interact, collaborate, communicate with our teams and these changes will remain for the foreseeable future. With the majority of organizations having had to switch to a remote workforce, the physical office space must be reconsidered.
With time, many organizations will have to return to their physical office but will have to be open to new ways of working. Over the last several years, our offices have seen a shift from traditional to a more modern workplace; developed for a more agile workforce, with collaboration as a top priority to foster relationships throughout organizations. The question now is not how to "fix" our modern workplace, but rather, how to incorporate a highly hygienic and sanitary space while preserving the cultures we have worked so hard to build and maintain in our organizations. 
Solutions vary extensively. Aura has surveyed industry leaders and has developed a Returning to the Workplace Program that focuses on the future of your workplace and how to better design and layout the physical space while supplying the proper equipment and cleaning services that will keep you, your staff and clients safe. 

So, what does Post-COVID design look like?
Post-Covid Office Design 
 The spectrum of office design contains endless elements. Let us signal out the most influential design elements that will be necessary in offices once they reopen their doors as the emphasis will be on physical distancing within the office as well as regular sanitization.
 To minimize the distance between staff, there are several solutions that can be easily achieved: reducing shared desking, re-orienting furniture so that staff are not directly facing each other, separating workstations to increase distance, and adding barriers such as screen partitions, plants or storage elements.
Image: Cushman & Wakefield
Other ideas to elevate the entire organization as a whole include:
 

Mats on the floor indicating private and social space

 

Increased number of small private offices 

 

Arrows on the floor directing traffic flow throughout the office 

 

Plastic partitions between workstations 

 

Training rooms/meeting rooms reduced

 

Cubicles coming back in a more modern way 
The below floor plan is an example of an office layout that includes some of the post-COVID design factors mentioned above.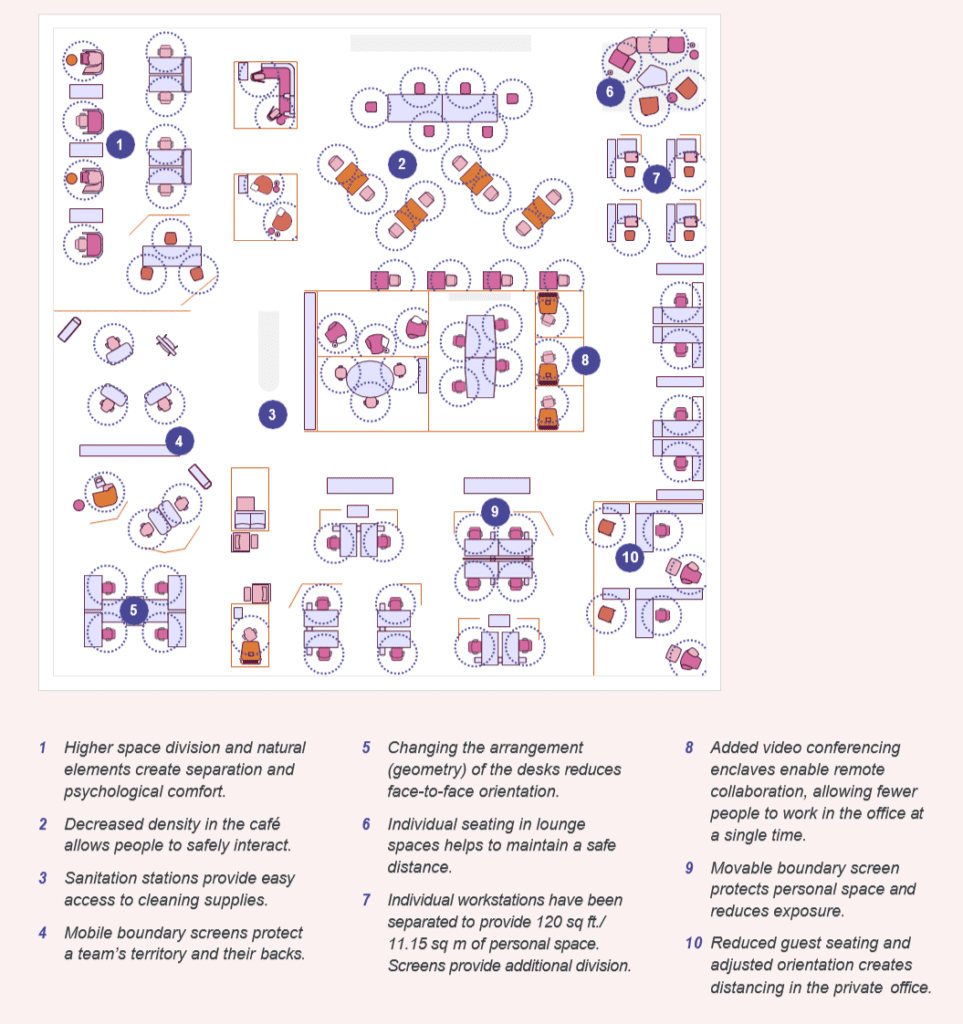 Image: Gensler
Touchless Technology 
Most people didn't think twice about touching a doorknob to enter a room, or using a store pen to sign your signature, however, communal surfaces are now feared as potential sources of contagion. Companies such as Kohler have stepped up with an entire line of touchless technology and have a growing demand. Entranceways, door access, kitchen sinks, soap and sanitizer dispensers, and light switches are just a few of the areas we will see an emphasis on touchless technology.  
The video below is an example of a product that should be incorporated into the post-COVID design.
A focus on Wellness 
Employee wellness will be the number one priority for organizations once doors reopen. More water stations and sinks will be dispersed throughout the office for regular hand washing and ease of access for hydration. HVAC and air quality will be very important and will be inspected.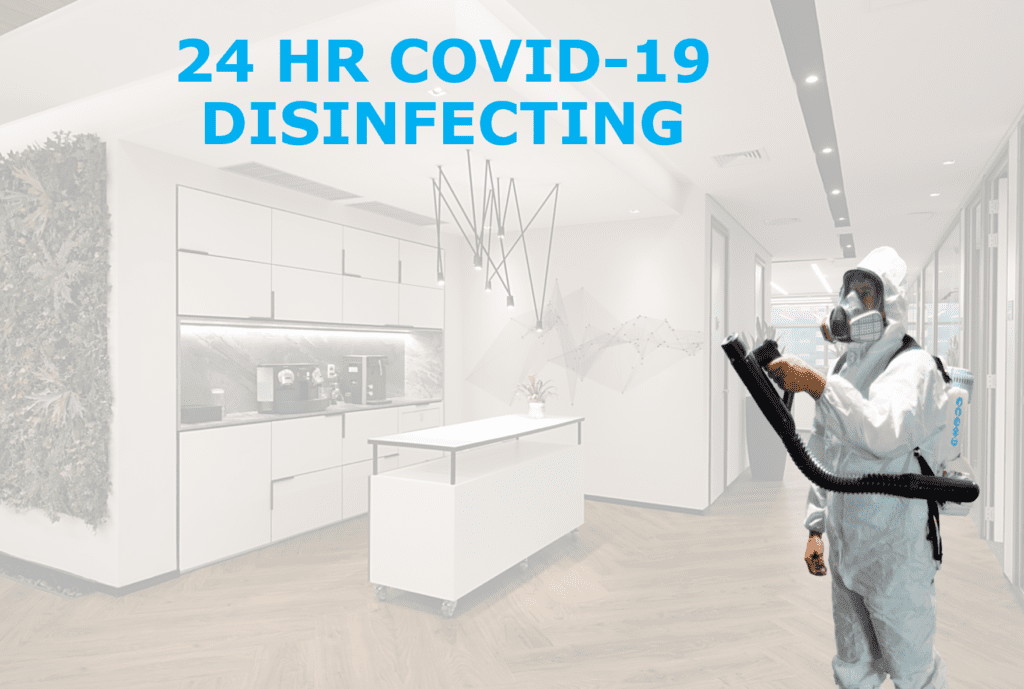 Disinfecting Services 
Disinfecting is one of the most requested services in today's day and a clean office is a direct representation of what your company is. Clean facilities cannot be viewed as a cost- they must be viewed as a revenue generator. Let's look at some facts:
Unplanned absences cause workplace problems; with a 54% decrease in productivity/output and a 39% decrease in sales and customer service

7.7 sick days per employee per year costs approximately $225.8 billion per year

Cold and flu symptoms (such as dry eyes, itchy or watery eyes, dry throat, headaches or chest tightness) reduce performance by 3-8% 

Dust exposure decrease employees' cognitive performance by 2-6% 
Aura's professional sanitizing and disinfecting services are effective against the COVID-19 virus and many other strains of bacteria and viruses. The process is safe, fast, and economical, using a natural hospital-grade disinfectant. 
PPE
Personal Protective Equipment such as gloves, masks, and even respirators will be supplied for daily staff use and will be encouraged. Aura will also train your staff on how to properly use PPE equipment, as it is important to know how to apply, remove and dispose of PPE equipment. 
The home office
What if most of your staff will continue to work from home?
This shift to remote working, particularly working from home, has many organizations questioning their remote work policy, with many leaders considering increasing remote work opportunities. Kate Lister, president of Global Workplace Analytics (GWA), estimates that we will see 25-30% of the workforce working at home one or more days a week within the next two years. Lister also describes the waste of space and money in the office that is a result of staff working from home more often. "Employees around the globe are not at their desk 50% to 60% of the time… a typical employer can save about $11,000US per year for every person who works remotely half of the time" she concludes.
 Aura recently released the new Aura Home Office package, a kit that targets to improve the well-being of your team while working from home. Read more about the  Aura Home Office to learn more about ergonomics in the home office setting.
Creating your Post-COVID workplace strategy
As business leaders are concerned about the transition of their staff back into the office, a workplace strategy is paramount at this time. A workplace strategy is an overall plan that is aligned with your business goals and teams' needs. Not only does this address the safety and well-being of your staff but where and how they collaborate and interact with clients, remote working policies, and real estate options. 
Aura's effortless 4 step process takes careful planning and all precautionary measures are taken to ensure the final result is a safe and efficient place for you and your staff to come to work every day.
Reach out to our team today to find out more about Aura's Post-COVID Workplace Program.
Schedule a consultation for Returning to the Workplace Program
Top Image courtesy of Envoy
Back to Our Blogs