Society has learned more than they thought they would about themselves and about the world around them during this pandemic. In terms of the working world, the majority of people have realized that working from home creates a different work-life dynamic and have found creative ways to stay productive and engaged. So, what happens to the corporate office and the future of the workplace?
As always, the best way to prepare for the future is to, well, ask around. And that's what we did. Our team conducted over 200 executive surveys to learn how Vancouver companies have been preparing for the return to work and focused extensively on their thoughts, ideas and fears. 
Work-life takes up forty hours of our week every week and in the past, most of us have centred our lives around our working situation. So it is understandable that almost everyone wants to know what our working situation will look like in a post-covid world as we see many organizations implementing work-from-home policies and creating smart workplaces. 
What Are The Findings? 
However, the numbers don't lie. 
A Unispace survey found that 68% of respondents will be working from home 2-3 days per week and 41% of people believe that employees will use more spaces within the office than before.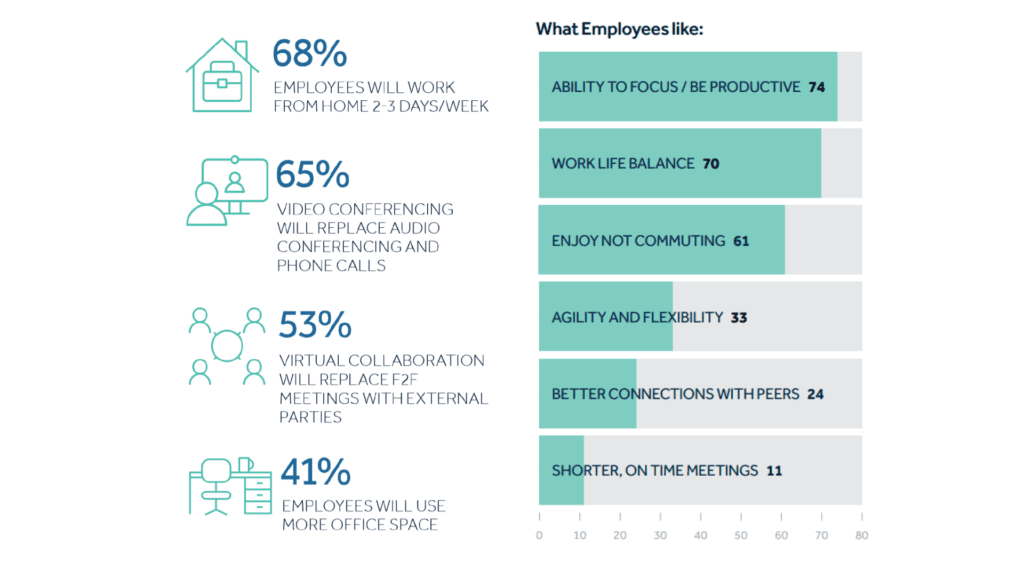 If we filter our own survey results to Vancouver-based companies the results are no different. Respondents consisted of C-Suite Executives and middle-managers in organizations large and small, locally and globally-based, of all industries. Our key findings speak for themselves:
In order to stay relevant, organizations will need to prepare for the future by allowing their staff to have the option to work from home or the office

The speed of development in technology to support remote work will quintuple

Office space will shrink overtime

Physical distancing will eventually fade through human habit, however, the physical design will change forever

Virtual meetings are here to stay but won't replace the need for face to face connections

Leaders unanimously feel their responsibility to act now to protect our environment by reducing the amount of commuting their staff do
We put together a snippet of the results by industry to get an idea of how the use of office space will change for each industry.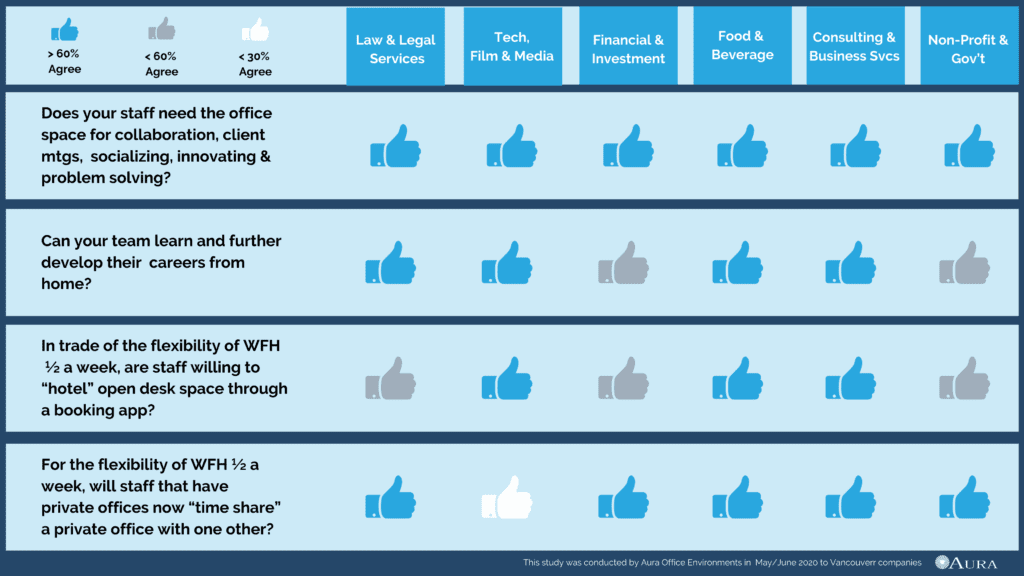 Although many tech-giants such as Spotify and PressReader have stated that they will be transitioning into a fully-remote workforce, our respondents are quite eager to have space where they can gather with their collective teams and departments, as collaboration is critical for creative brainstorming. As one respondent stated, "teamwork makes the dream work".
How Does This Shape The Future Design Of The Office Space?
 When you really ask yourself, 'what is the purpose of an office', you'll most likely find that the root necessity is a place where community and innovation are fostered. Brainstorming sessions and collaborative team efforts simply can't be accomplished to the same capacity over a screen. 
If we look at a study in the Journal of Applied Psychology back in 2007, we see that employees felt this disconnection and isolation when working remotely three or more days each week. 
For many, coming to the office gives a sense of purpose and we want to be careful not to abolish this as it is directly linked to employee wellbeing and performance.
The new office layout? The options are endless and debatable. For example,  activity-based working or hotelling options that host more collaborative areas in the work environment may be a popular choice as our survey has proved that focus work can be done from home. Staff can come into the office for collaborative work and meetings, as a place they can brainstorm together and keep the culture alive while using their home office for more individual focus work. 
By removing excess space dedicated to individual focus work, you've minimized your square footage and can save extensively on overhead costs. On average, an office lease is the second most expensive overhead cost for an organization.
How Does This Differ Between Industries?
 There is a vast difference in responses between industries. 
Many tech firms have largely adopted the idea of split collaboration/remote work styles and have been ahead of the curve by an entire decade. The overall response from the survey conducted is that the tech industry may see further developments on this front and reduce space from what was once a hub to solely a space where teams come together to socialize- keeping that sense of belonging and team spirit alive. 
The future tech office space in this example could be quite forward-thinking – respondents have shown interest in styles similar to a cafe, a giant meeting room,  restaurant or country club. The ideas are endless but the space would be a direct representation of what your company culture is to look like moving forward. 
Professional service firms have potentially had a harder time adjusting to the change, in particular, the legal industry. The challenges that professional firms have been facing during this time relate to technology, decision making, onboarding/ training staff, and keeping the culture alive. 
To overcome these challenges law firms could adopt a concept of time-sharing; where 2-3 staff share a bookable private office with one another or by creating 'neighbourhoods' within the space. This would enable the firm to blend the working-from-home concept and reduce office square footage.
Each industry and company's needs are unique but the opportunity to better utilize your available real estate and plan for efficiency in a pandemic and post-pandemic office world are endless.
If you would like to see the full results from this survey or would like to be a part of the research, please contact us and we would love to hear your opinions.
Back to Our Blogs